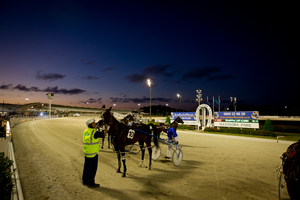 The TAB has found a unique way to counter a run of short Pick6 dividends at harness meetings - by putting all six legs on trotting races.
Tomorrow night's $100,000 turbo terminating Pick6 will be spread between the Addington and Alexandra Park meetings, which is expected to be repeated every Friday this month.
However, this Pick6 will have a difference with the six races run in just 75 minutes restricted to trotters.
"Trotting races, especially lower-grade ones, are more likely to produce a good dividend than similar pacing races," said Racing Board spokesman Michael Dore.
"So we saw them as the best chance to have a really good terminating Pick6 dividend, with even the dream scenario that somebody could scoop the whole $100,000 with just a 10 cent unit.
"So far the terminating turbo Pick6s haven't been enormously popular at harness meetings and we think that might be because punters expect them to be struck and not pay all that much."
So buoyed by the recent swell in trotting numbers in the north, Dore contacted both clubs and asked if a six-race stretch of trotting races between their venues was possible.
"We are thrilled to get it off the ground, even if only for the novelty value but I am pretty confident somebody is going to get a good return out of this.
"After all, one of the legs is the Canterbury Park Trotting Cup which has horses like Stig, Vulcan and almost every up-and-comer in the South Island.
"It is a hell of a race and not easy to pick so the Pick6 should pay well and, of course, it has to be struck."
Meanwhile, the TAB has opened Christen Me at $1.50 to win the Canterbury Classic tomorrow night, with arch rival Terror To Love at $3.