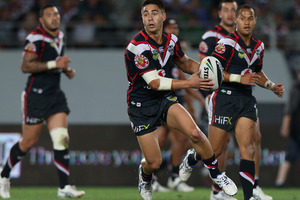 The Warriors will split their home games across a trio of venues next season, with an unprecedented three matches taken to Eden Park.
The country's biggest stadium staged the Warriors' first home game in each of the past three seasons but, as part of a major initiative announced today, the club will significantly step up its use of the venue.
The Warriors have 12 home games next season and, in addition to Eden Park, Wellington's Westpac Stadium will also host one match, with the remaining eight to be played at the Warriors' traditional home of Mt Smart Stadium.
"While we're still waiting for the 2014 draw to be confirmed, the likelihood is our three games at Eden Park and the match at Westpac Stadium will all be played in the early part of season,'' said chief executive Wayne Scurrah.
"On the back of the inaugural NRL Auckland Nines at Eden Park (February 15-16) we can create an exciting festival of football feel to the start of the year with big crowds getting along to the Nines, our three games there and also in Wellington.''
Scurrah said the move to play more games away from Mount Smart Stadium had become a commercial necessity for the club.
"The Australian Rugby League Commission has also outlined its objective for all clubs to increase average home attendances to 20,000 as well as promoting the NRL by taking games to the regions and to bigger stadiums not traditionally used for rugby league.
"The fact is our numbers at Mount Smart Stadium aren't close to the targeted 20,000. If we're committed to being more successful an absolute requirement is increasing our revenues and a critical way of achieving that is through growing our crowds.
"We will still have Mount Smart Stadium as our principal home ground next year but we're also excited about continuing to widen our support base by playing at Eden Park and Westpac Stadium.''
The three crowds at Eden Park in 2010, 2011 and 2012 fill the top three spots for the biggest home attendances in the club's history, while the crowd at this year's inaugural match in Wellington ranks fifth.
- APNZ