Taylor Bourne will compete in first event as tribute to his legendary father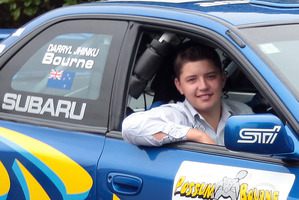 Round five of the New Zealand Rally Championship, the Possum Bourne Memorial Rally, will see the son of the late rally champion behind the wheel of his own car.
Taylor Bourne is making his rally debut at the 10th anniversary of the event in a Subaru Impreza WRX prepared especially for his first rally by Possum Bourne Motorsport. Taylor has settled on Rodney MP Mark Mitchell, his stepfather, as co-driver.
While it's not quite the blind-leading-the-blind, today's event is the first for both of them with Mitchell having only recently passed his MotorSport New Zealand competition licence and co-driving qualifications specifically for this event.
Taylor has been to the Dale Perry Rally Drive School in Maramarua Forest and with his brother Spencer started competing in club autocrosses and motokhanas this year.
The 18-year-old was enjoying the action so much that Mitchell suggested he compete in the Pukekohe event as a tribute to his late father.
"I'm looking forward to the rally but I'm a bit nervous as well," said Bourne. "I've always had an interest in rallying and can remember being told when Subaru were pulling out of the WRC and that came as a big shock.
"Even after Dad died I still followed rallying and the WRC in particular. You can't stay away from something you were born into and where rallying was everything. I've been waiting for this day to go rallying for years.
"I've always wanted the day to come around that I could get into a rally car and sit behind the wheel, have a go and see what I can actually do. Rally school was great and it showed me how scary it can be at times and how hard it is.
"The rush you get at the end when you get out of the car - there's nothing like it. And having Mark with me is great, as he's known me for years and taught me how to drive and there's no one else I'd rather have by my side."
Mitchell has been involved with the family since Tayor was around 12 and is pleased the youngster is about to do something almost official in remembrance of his father.
Not having any background in motorsport is a bonus as the pair have been on the same learning curve regarding the nuances of rallying and all it entails.
"It's starting to get really exciting now and over the last three weeks we've concentrated on getting everything ready," said Mitchell.
"It was a last-minute decision to let Taylor enter the rally but it's all happening now.
"It wasn't about him going out there and trying to compete with these guys it's all about him doing a tribute for his Dad and finishing the rally.
"To be honest with you I'm not a motorsport guy at all and this will be the first rally I've ever been to."
I suppose it's not such a bad way to see your first rally - from actually inside a car rather than standing on a bank and watching one whizz by. Mitchell isn't quite the motorsport novice he's trying to make out. He may not have competed before, but he's been a big supporter of the boys and helped all though the karting and other race adventures.
"Peggy and I thought if he was going to do it, it would be better if I was sitting beside him and funnily enough, Taylor actually asked me to do it with him.
"I understand his limits and will know if he should go a little bit faster or to ease up a bit if he starts to get a bit carried away," he said.
The two blokes may be fired up for their big adventure but it's Mum and wife who had to sign off on the deal. For Peggy Bourne there must have been a bit of trepidation when the idea was first muted that two of her loved ones were about to hurl themselves around the gravel roads of the Franklin and North Waikato districts.
Ever the practical one, Peggy decided it was better to manage the situation rather than be a sticking point. However, you can bet your bottom dollar, after Peggy has kissed them both good luck on the start line, a small finger will be waved in their respective faces to "take it easy".
"I can honestly say when the idea was first spoken about I had an anxiety attack for about half a day," said Peggy.
"I knew it would happen one day, and it was just a matter of when. Accepting it was going to happen, I just went said 'all right, this is how it's going to happen'.
"First of all I said we need a car and we need help. In actual fact it's been an incredible learning curve for Taylor and he's learned so much. He's really stepped up to the mark and it's all part of growing up and everyone's said he's really stepped up to the plate.
"It's been incredible and humbling, for all us about how much help all the people have done for him. They believed in Possum and now they believe in Taylor.
"There's a bit of pressure sure, but he knows it's not about winning, it's about finishing and I told him everyone at some point had to have a first rally, and you have to walk before you run.
"I've told them both they are under strict instruction to go easy and I want it to be more like Driving Miss Daisy than anything else."
Support has poured in for Taylor's campaign from new and old sponsors such as CRC, Subaru New Zealand, McDonalds Orewa, Chicane Racewear, Glasurit Paints, Agility logistics, Northern Arena, Caltex, PBM and Hella.
All of whom have come on board in the short space of time to get the project up and running.
NZRC points
1 Ben Hunt 89
2 Hayden Paddon 88
3 Chris West 77
4 Richard Mason 66
5 Matt Summerfield 35
6 Matt Jansen 30
7 Matt van Tuinen 23
8 Brian Green 21