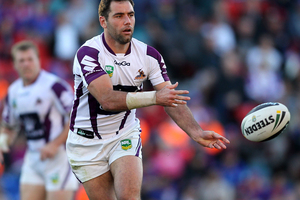 Cameron Smith's silence spoke volumes after NRL premiers Melbourne's crushing 28-8 loss to arch-rivals Manly.
Normally one of the NRL's most eloquent ambassadors, Australia and Melbourne skipper Smith cut a figure of mostly silent dejection during the Storm's post-match media conference at Brookvale Oval on Saturday night.
Asked if he had a reason for an uncharacteristically insipid and error-prone Melbourne effort, Smith replied No.
He paused for five seconds before adding ``I don't know what more to say mate, there's no reason at all.''
And that was it. Even more hard-boiled rugby league journalists couldn't bring themselves to ask any further questions of the obviously crestfallen captain.
The lopsided scoreline ensured Manly climbed above Melbourne into third spot on for and against.
Storm fullback Billy Slater gave short shrift to the suggestion it was better to suffer a heavy loss in the penultimate round than in the finals.
"No, not really. I would have liked to have played really well tonight and win by 30,'' Slater said.
While all six Manly tries came down Melbourne's left hand side, Storm coach Craig Bellamy refused to single out the defenders on that side - Maurice Blair and Sisa Waqa.
"They weren't blameless but that came because of the whole team attitude really,'' Bellamy said.
"I'm not going to sit down and condemn our left hand side, because a lot of that came from what was happening inside them.''
Not surprisingly Slater nominated defence as the area Melbourne needed to fix most heading into their final round game against Gold Coast next Saturday.
"To our standards, that was nowhere near good enough, in all parts of our defence,'' Slater said.
"They got us out wide, they got us up the middle, they got us everywhere, so I'm sure we'll have a good hard look at it this week.
"I came into this game knowing that this was going to be a real tough game and we haven't played a side that are defensively really strong, and have got the strike that Manly have in attack, for a long time.''
Bellamy said winger Justin O'Neill could be out for a while after getting kneed in the back.
-AAP