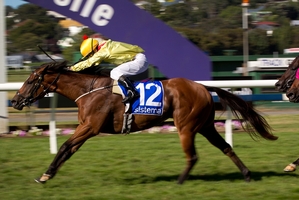 How the Hastings track will race will decide, as much as anything else, today's $200,000 Makfi Challenge.
When rain forced the track to a downgrade of a heavy 11 midway through yesterday, a lot of bets were off in terms of the guessing game.
This far out (yesterday) you assume horses finishing strongly up the middle of the track might have an advantage on those closer in.
Only time will tell, but even if that is half right, horses like Survived and Sangster are going to be suited.
As we said in yesterday's Herald, if Survived can get the grip in the home straight on this track he managed when he won the Hawkes Bay Cup, it will be a surprise if he doesn't go close. His finishing sprint that day was the stuff of dreams.
There are no certainties on heavy 11 tracks, but if you angle your bets around Survived and Sangster you may not be far away.
Xanadu and Fleur de Lune are chances to similarly handle the conditions - good luck on what is certain to be a tough day.
Ringo (No 9, R5) hasn't raced on a heavy track, but he won two from two in slow conditions last campaign, even though the times were pretty good in each of them. Like Survived, if he can get a grip on this track he's going to be difficult to handle. He's smart, he's going to get better and Mike Breslin knows how to get them ready to win first up from a spell.
Soriano (No 12) is another who hasn't proved herself in the worst of conditions, but she is very smart and can surprise here at decent odds.
We've tipped Kapsboy (No 7, R9) three times out of four recently and he's got the money each time at surprisingly good odds. Equally, he wins by margins. This half-brother to Fleur de Lune is heading places and although he will be a better horse next campaign, looking at his slightly spare frame, he's well capable of making it four from five today. He handles all conditions, races on the speed and kicks hard.
That's going to be hard to beat today because Jason Jago will know to get out to the centre of the track by the home turn.
If Brave Centaur (No 1, R6) doesn't win the Ruakaka feature today the game is not fair. He was super impressive winning at the Te Teko barrier trials and this is a hugely easier option than the Makfi, which trainer Lance Noble ruled out when the track came up heavy. Take whatever odds are on offer.
Dean Martin (No11, R5) was getting home strongly on this track when resuming last start and is certain to be sharper for this. So is Sacred Point (No 10).
Close relative Matt Dillon (No 5, R7) (Never sit with your back to the door, Gunsmoke), is the goods, as he showed in winning on debut at Matamata in May. It will be a surprise if the Hawtin team does not have him in similar shape for today.