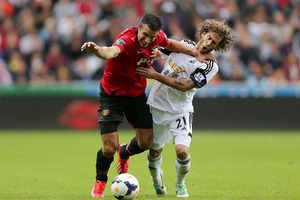 Kiwi football fans got their first taste of Premierleaguepass.com last night and the new online broadcasting platform received mixed reviews around the country.
Coliseum stunned New Zealand's sport broadcasting market by securing the English Premier League rights from Sky in June, and CEO Tim Martin said he was very satisfied with their opening night.
"For the vast majority of customers, the service worked great," Martin said.
"There were a few minor hiccups - like the Norwich v Everton game which had some problems with its On Demand play - but the numbers were great, and for those people on top of their technological requirements, they had a great experience."
Thousands of fans fired up their computer's to watch Liverpool kick off the season against Stoke at 11.30pm and Twitter was quickly awash with praise, scrutiny and questions about the new service.
"What a dead loss #premierleaguepass is. Only game I can get to work over the last hour and a half, is Arsenal vs.
Villa #fail," said Twitter user @Nzcolin.
Peter O'Carrol tweeted "(working) Great, laptop then through TV. Watching 4 games at once was good. Watching 2 games PIP brilliant. Live pause & rewind works well."
The contrast in user experience stems from a difference in broadband speed, modem setup and the technology of the device the match is being viewed from.
Martin said that he was impressed with the fairly even split amongst the six games that were broadcast last night.
"There were thousands of people on every game. You could see the response on Twitter, people were working it out as they went. It's a platform that people will have to play around with."
Martin was apologetic to customers who were affected by the delay in releasing their Apple app, which has prevented customers from viewing games on iphones, androids and ipads.
"The app is with Apple, it's ready and it's working great. We are just waiting for them to put it in the store. It can be hard to push them along. We are hoping to have them through in the next few days. It is disappointing for the people who were relying on these clients and we are sorry for that."
Sky copped considerable criticism when they lost the rights to screen live Premier League games to Coliseum, but have hit back by securing the rights to show delayed coverage of four of the biggest teams in the competition.
Sky viewers can now watch delayed coverage of Manchester United, Arsenal, Manchester City and Tottenham Hotspur games.
What they said on Twitter:
Ard Righ @ardrigh
Great video quality from @p_l_pass for Liverpool vs Stoke, doesn't make the football better #EPL
Hayden Meikle @HaydenMeikleODT
My download speed appears to be 4mbs. That's pretty frickin hopeless, right? And that will be why my Prem League Pass is crap?
Andrew Millar @a4design
Congrats @p_l_pass - this service is going to be amazing. not gonna lie, wasn't gonna purchase this season but may have to re-budget!
Ard Righ @ardrigh
Currently watching four games of football on one screen. Show me that option on the Sky decoder?
Paul Harper @paulharper_nzh
How is everyone else's @p_l_pass EPL quality? My stream looks like a 90s Fifa game:
Andrew @KopGoff
@pineyzb no buffering but very laggy for me, for as many people who had no issues think there were same amount who had them.
Adam Simmons @isoskim
(worked) good mate, lot of people not happy; no doubt sky was better, but it is actually good being able to choose what game to watch.
Peter O'Carroll @Nakiman
(workled) Great, laptop then through TV. Watching 4 games at once was good. Watching 2 games PIP brilliant. Live pause & rewind works well