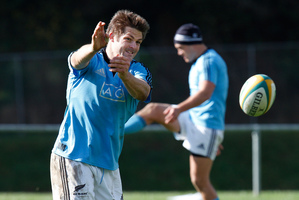 All Blacks who are in their 30s bring experience and wisdom to the game, say New Zealand sports experts - countering claims in Australian media they will slow down tomorrow's Bledisloe Cup side.
Former Wallabies captain Andrew Slack has "questioned the hunger of the All Blacks' ageing stalwarts", according to one report which said the team were not the formidable group that took the World Cup in 2011.
The squad travelling to Sydney has at least seven players in their 30s including captain Richie McCaw, 32, hookers Keven Mealamu and Andrew Hore, both 34, prop Tony Woodcock, 32, centre Conrad Smith and second five-eighth Ma'a Nonu, both 31, and prop Wyatt Crocket, 30.
But sports psychologist Dr Gary Hermansson said age could help professional athletes.
"Age can be a factor but age brings experience and maturity as well," he said.
"The issue about age is only evident when people start dropping off in their performance level."
Hermansson said the All Blacks had to put the age debate aside as they were going up against an Australian team with a new coach.
"Logically there comes a point where you've got to be able to focus entirely on what happens in the boundaries of the field."
Waikato team doctor Zig Khouri said anyone over 23 was considered "old" in elite sports but he did not support the theory.
Although professional rugby was tough on the body and undoubtedly aged players faster, it did not affect onfield performance.
Khouri said older athletes were wise to the tricks of the game and could mentor younger players.
"Some of the forwards, big guys, get better with age and have got a lot to give at the age of 30 still."
Sir Colin Meads said older players had to train harder.
"I think the older players that we've got in the All Blacks are experienced enough to know that and keep themselves in pretty good order."