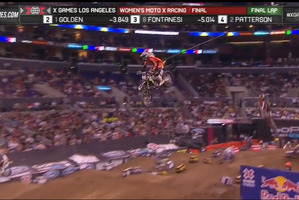 It's certain Australian motocross rider Meghan Rutledge rider will leave her celebrating until after she's crossed the finish line from now on after crashing out on the final jump at the X-Games in Los Angeles.
The 18-year-old was leading the women's moto-X race when she delivered a celebratory fist-pump, only to lose control as she entered the last corner of the race.
Vicki Golden of the US took advantage of the crash and won gold while Rutledge was left with silver.
The moment evoked memories of American snowboader Lindsey Jacobellis who fell on the final jump while leading the women's snowboard cross event at the 2006 Winter Olympics.
Jacobellis attempted a grab in the final stages of the race and failed to stick the landing, allowing Tanja Frieden of Switzerland to pinch the gold.
- nzherald.co.nz