Victory over Russian Ustinov could set stage for another title fight as Kiwi-Samoan makes new bid for big time.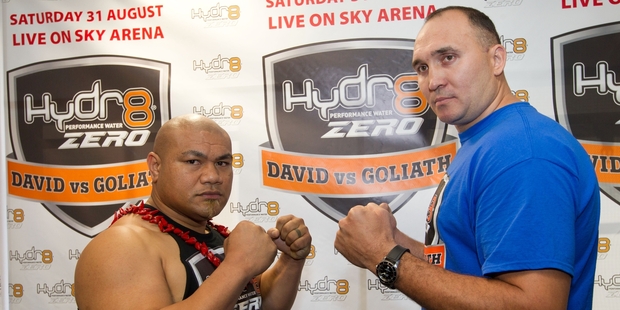 Boxer David Tua yesterday spoke of going to dark places in training for his showdown with 2.02m Alexander Ustinov, but victory could light up a short path to another title fight against one of the Klitschko brothers.
It is understood Duco Events, Tua's promoters, are keen to get their man into action as soon as possible should he win in order to capitalise on his excellent fitness in preparing for Ustinov, whom he will fight in Hamilton on August 31.
That means all going well at Claudelands Arena, Tua's next opponent could be Serbian Jovo Pudar, 42, a fight which could happen in New Zealand before Christmas.
An interested spectator at the Tua-Ustinov bout will be K2 general manager Alexander Krasyuk. K2 is owned and managed by the Klitschko brothers and an impressive victory for the Kiwi-Samoan will quickly get the brothers' attention.
Ustinov is ranked the WBA's 10th-best heavyweight and the organisation has agreed to put up the vacant Pan African belt for his fight against Tua. Ustinov is also ranked seventh by the IBF.
If 1.78m Tua were to win the Pan African belt and beat Pudar, the PABA champion, he would be among the WBA's top five-ranked heavyweights and as such would be on course to the big time again.
The Klitschkos hold all the major belts - Wladimir is the WBO/WBA/IBF/IBO champion and Vitali the WBC champion.
Tua's title fight against Lennox Lewis in Las Vegas in 2000 ended in a disappointing points defeat, but the 40-year-old has never been knocked out and, while he hasn't fought for two years, his punching power hasn't diminished if the stories about the damage inflicted on his recent sparring partners are to be believed.
"It's completely in David's hands," Duco's David Higgins said. "From his perspective there's only one fight that he is concentrating on and that is against Ustinov ... but if he wins and keeps training well, he could go to the front of the queue [of contenders]."
Tua, who met Ustinov for the first time yesterday at a media conference, shaking his hand and greeting him in Russian, gave an insight into his training regime with Lee Parore, the man who prepared him for his stunning knockout of Shane Cameron in 2009.
"There's darkness and emptiness that I've never experienced in my whole career and I'm quite humbled that I've experienced it this time," he said.
His conditioning dropped away once he parted ways with Parore - his wins over Friday Ahunanya and Demetrice King counterbalanced by a draw and a loss to Monte Barrett. But now the link has been renewed Tua said he was in better shape than before the Cameron fight.
"This is probably the hardest I've ever trained in my whole career. It's been a very tough road back. I've never experienced any pain like I've experienced on this camp."
Ustinov will be a big test for Tua and not only because of his size. At 36, the former soldier is younger and has a good record - 28 wins and only one loss. Ustinov also has the advantage of fighting as recently as April - a unanimous points decision over Croatian journeyman Ivica Perkovic.
Tua's greatest hits
1 KO'd Michael Moorer in 1st of 10 rounds in Atlantic City in 2002. Former IBF champ knocked out after 30 seconds.
2 KO'd John Ruiz in 1st of 12 rounds in Atlantic City in 1996. Beat WBC title holder Ruiz with a stunning KO after 19 seconds.
3 TKO over Hasim Rahman in 10th of 12 rounds in Miami in 1998.Controversial win when Rahman was stunned after bell in 9th and pummelled in 10th.
4 KO'd Shane Cameron in 2nd of 12 rounds in Hamilton in 2009. Dropped Cameron twice in 1st and demolished him in second.