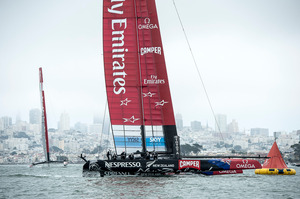 Jonathan 'Jono' MacBeth has seen a few America's Cup races. A two-time Cup winner and five-time competitor, the Oracle grinder won it with the "big boat" challenge against Alinghi in 2010 and with Team New Zealand in 2000.
One of the many expat Kiwis in this regatta, he was with Team NZ in 2003, when they lost it to Alinghi, and in 2007 when they narrowly failed to beat the Swiss holders. So MacBeth is perfectly placed to look at the differences between Oracle and Team NZ. He mentions one key word: gybing.
"They are gybing so strongly," he said. "It's a real key to their racing. They have shown great form in their boat handling in all winds."
Gybing is when a yacht reaching downwind turns its stern so the wind hits the boat on the other side of the sail. It can be faster to gybe than aim for a straight downwind run; a gybe is often the best way of rounding a mark on a race course. It usually involves slowing down but the Kiwis have found a way of consistently keeping these 7-tonne giants on their foils while gybing, keeping speed up and drag down.
It's been one of the big differences between Emirates Team NZ and Luna Rossa and MacBeth admitted Oracle were not yet as strong in the skill.
"No, no way," he said. "We need to sharpen up our game and get up to the level that they [Team NZ] have set. Still, we are really only entering race mode now."
The advantage - and time - gained is enormous. In a traditional gybe, the boat slows, dropping its hull deeper in the water. In the AC72s, the slowdown if a boat comes off its foils and touches the water is considerable - at least halving boat speed.
Team NZ are said to be pulling off some gybes at about 30 knots - a huge benefit if the opposition are struggling round a mark at half that rate, as the Italians are. Team NZ are regularly pulling off foiling gybes at considerably more than 20 knots when they get it right.
MacBeth said it was difficult to tell which of Team NZ or the two Oracle boats was going faster but said Oracle's top speed was "about 44 or 45 knots" - the same speed Team NZ cracked to set the speed record last week.
MacBeth also said that he thought the two Oracle boats were still sailing on the old, non-compliant rudders though there were reports last week that Oracle had begun training using the compliant rudders that were the subject of "Ruddergate" before and during the start of the regatta.
As a sailor who's done it both ways - preparing for a regatta with two-boat testing, as Oracle are now doing, and sharpening up by racing other challengers - he said having the two boats was "a great asset".
"It allows us to practise our pre-starts and I don't see Team NZ or Luna Rossa offering to come over and train with us. I think it is good [training with two boats] when so much depends on it and it is maybe more important [than racing against distant opposition] but, at the other end of the stick, development time in making the boat go faster is also very important and you have to balance your time."