Dalton says Swedish team still has uphill battle before new boat can compete in semifinals.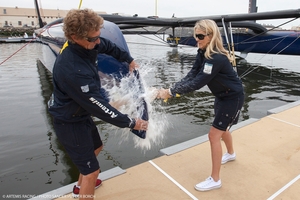 New Zealand America's Cup boss Grant Dalton isn't sure whether Artemis will be ready for racing in the Louis Vuitton semifinals.
"It's too hard to judge," he said after Artemis launched their long-awaited boat in a private ceremony involving about 300 people yesterday. "You really need to see them sail; you just can't tell until then."
Artemis' launch yesterday quickened the thinking of many observers, keen to see them participate in the Louis Vuitton round robin which has so far involved only Emirates Team New Zealand and Luna Rossa on the water. But the reality is that the Swedish syndicate will be hard pressed even to make the start line of the semifinals, so much do they have to do to get the boat race-ready and the crew able to sail it at optimum speed and safety.
"They are coming into it a little better than we did," said Dalton. "We had to build our own blueprint from scratch. They have been able to look at other blueprints, just by observation, and piece things together like that.
"But, on the other hand, it is a new boat and they have a new wing too. That is a lot to work with, a lot to get your heads around; I don't know that we'd take it on [turning up for the semifinals with only two weeks' practice in a new boat]".
Artemis' new boat is now designed for foiling - the art of which will be a key element in this Cup. Their first boat - the one that broke up in San Francisco Bay in May, killing crewman Andrew Simpson - was not designed for foiling.
So it is a little like a New Zealand team entering Formula One motor racing, scrapping their car design and building another to compete in the opening grand prix with only two weeks' training.
Artemis said nothing yesterday about when they would be ready for racing; the assumption is that they are sticking to their plan of appearing for the semifinals on August 7.
If that is what happens, the clear likelihood is that Artemis and Team NZ will never race against each other. Team NZ will go through to the final if they beat Luna Rossa in their third on-the-water clash today although the team have indicated they will keep sailing to get the time on the water.
Most observers figure that, because of the huge advantages that can be gained with time on the water and making development gains with these giant catamarans, Artemis will not survive the semifinals. Most are picking five-minute losses or more to Luna Rossa - who lost to Team NZ by that margin in their first clash.
At best, they will sail - but may have to be content with a slow navigation of the course. Another accident would not only be a hearts-in-mouths moment for Artemis, it would also reflect badly on Oracle's choice of the AC72s as the boats to race in the 34th America's Cup.
If so, that means Artemis have spent something like US$20 million ($25 million) for three weeks' racing - or US$5 million per race if, as expected, Luna Rossa wins the best-of-seven semifinals 4-0. That does not even take into account the man hours or operational costs that bump a competitive team's budget up towards the US$100 million mark.
Still, it was an emotional moment for Artemis. Billionaire syndicate founder Torbjorn Tornqvist attended the early morning ceremony with 300 members of Artemis Racing, family and friends.
"This is a great day for many reasons," said Tornqvist. "It's the culmination of a heroic effort to put together this beautiful boat."
Artemis helmsman, Australian 2012 Olympic gold medallist Nathan Outteridge said: "We are definitely the underdogs. We haven't even sailed the boat yet and the elimination series starts on August 6. We are actually in the same position as everyone else - just wondering how we are going to go. Until we start sailing, we won't know whether it's going to be a nice ride or an untangled beast.
"They've worked tirelessly, and they have my admiration for the way they've gone about it."
Team NZ, Luna Rossa and Oracle all had a day off the water yesterday - all working on developments to their boats; fine-tuning and tweaking everything from aerodynamics to the simple clip that broke and caused Team NZ to dump their jib when racing Luna Rossa on Monday.
It is that type of developmental speed work that Artemis may not have time to do.