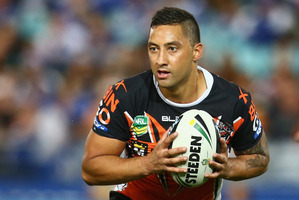 The thought of Benji Marshall moving from rugby league should not be underestimated by the NRL. They have already lost the drawing power of high-profile individuals - they lost Israel Folau to AFL and now rugby union and are in danger of Sonny Bill Williams moving back to rugby union.
That recent history looks questionable, especially when you factor in that Marshall may be seeking the fortunes he was promised from the former West Tigers CEO. Does he deserve to be paid what he is demanding and should the club honour the handshake deal allegedly offered?
The Tigers board rejected his request so the only avenue he will get compensation is from increasing his television contract and that is where he wants to end up - in the media.
Who stands to lose if Marshall decides rugby league is not delivering on its promise? It is clear individuals like Folau and Williams bring much media attention to the sport, returning dollars to advertisers, sponsors and club coffers.
These add up to vast numbers of people attracted to and watching the sport.
Benji will not attract more people to rugby league but his defection will attract attention and everything that goes with it to the sport he signs with - presumably rugby union.
I personally would not like to see the NRL make the same mistake which is why his agent needs to convince the NRL that his club will not pay any more money for him, as is evident from numerous reports, and that any more money extracted out of present sponsorships should be exempt from the salary cap.
This is just to keep his profile in the sport. People will proclaim that this is a way of rorting the salary cap rules, now and for future players. It can't be seen that way, as the average player does not attract the attention that Benji, SBW and Folau can, hence a point of difference for the NRL when pondering third-party arrangements already in place in the salary cap.
However, do you keep a player in a sport when they are not producing the quality of performance they are known for or, more importantly, being paid for? My short answer to that is, no. Is he not happy with his reported A$750,000 a season now? It appears he'll get back to his best when paid the A$1 million a season he's looking for.
Well, if that is so, his motivation to play is questionable. We can speculate as to what is happening at the club with player discontent, boardroom tensions and player-coach power games but the fact of the matter is that the only person who can change how he is playing is Benji.
He's out of form and struggling. I have seen enough from quality players to know that, when they are out of form, their craving to train harder, their commitment to more sacrifices and the desire to play stronger always shines through.
You can't do it sitting on a beach in an exotic location having a holiday while your team-mates are doing exactly what you need to be doing.