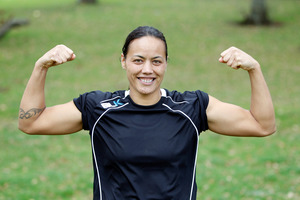 Honey Hireme is one of the best female cross-code athletes around and it's little wonder she's picked up the nickname Honey Bill Williams.
The 31-year-old has already won two women's rugby league World Cups and on Monday morning (NZT) will hope to add a third when the Kiwi Ferns take on Australia in the final at Headingley, Leeds. Last month she also helped the New Zealand women's rugby seven team win the world championships in Moscow.
Unlike Sonny Bill Williams, however, her achievements haven't earned her great financial reward or recognition. In fact, like the rest of the Kiwi Ferns squad, she had to raise $2000 just to get to the World Cup.
Hireme teaches self-development courses in Hamilton for people with disabilities and also has a son and two stepchildren. She has to try to fit life around training twice a day - usually a gym session before work and then field training after work. She has never turned up to the wrong training by mistake but once played-the-ball during a rugby game, which drew dark stares from her coaching team.
"It's pretty full-on,'' she said with obvious understatement. ``It's taken a lot of sacrifices, not just for me but my family as well. I just have real passion for both codes and wasn't willing to give up one for the other.''
That might have to change next year. She now has her sights set on winning gold at the 2016 Rio Olympics, when rugby sevens will make its debut, and it's a commitment that will take up more of her time. She says the lure of the Olympics is likely to win out over rugby league but ``still has a few things to work out''.
Her immediate task, however, is to lead New Zealand to a fourth consecutive women's rugby league World Cup. The Kiwi Ferns have dominated women's league, winning all three World Cups contested since its introduction in 2000 in commanding fashion - they won the three finals by a combined score of 118-4 - but Australia and England have closed the gap and there's a degree of anxiety in the New Zealand camp ahead of Monday's final.
``I think the girls are definitely nervous,'' said Hireme, who was named captain of the side on the eve of the tournament. ``It's just a matter of not being complacent because the other countries are definitely catching up.''
That was shown in their last two pool games against England (when the scores were level 16-16 before New Zealand scored four late tries to win 34-16) and Australia (14-6) and the Australians are confident of causing an upset.
``We will have to improve but we are right in this World Cup,'' Australia coach Paul Dyer said after pushing the Kiwis this morning (NZT).
Both sides rested a number of their top players with little riding on the match and to give everyone a run in the group stages. Hireme again showed her class, with the centre taking her tally to seven tries for the tournament, with Amber Hall and Nora Maaka also touching down.
New Zealand 14 (Amber Hall, Honey Hireme, Nora Maaka tries; Geneva Webber gl) Australia 6 (Tara Westera try; Ali Brigginshaw gl). HT: 6-6.
- APNZ