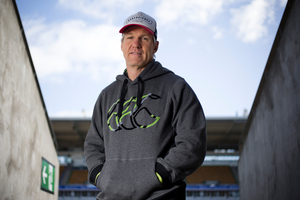 Many pinpoint the Warriors' turnaround this season to the meetings they had as a club immediately after returning to Auckland following the heavy defeat to Penrith. Coach Matt Elliott thinks it's time they had another one.
There's no crisis now, considering they have strung together five-straight wins since that 62-6 hammering to the Panthers, but he wants to ensure standards are kept high.
The mind can play funny tricks and Elliott is mindful of this and intends holding a team meeting when they gather in Perth ahead of Sunday's game against the table-topping Rabbitohs.
"Everyone talks about the meeting we had after the Penrith performance but what we probably need to do is have one now because victories cover over cracks,'' Elliott said. "We were lucky on the weekend [against the Broncos], let's be honest.
"We get an opportunity to hang out as a group for a couple of days, which is exciting for us, but we really need to re-examine the attitude.
"The thing about developing attitude is that it's never a static thing. The mentality that might win us the game this week, some of it will help next week but you need to adapt it. We have to improve as a team.''
Their progress will get no better workout than against Souths, who go into the game on the back of 13 wins from 15 games including wins in their last four starts. They sit four points clear at the top of the table and there's excitement around Redfern that they might be able to win their 21st premiership but their first since 1971.
The challenge the Rabbitohs present and the fact the Warriors are still sitting in midtable would be enough to ward off any self-assurance, according to captain Simon Mannering.
"We are still near enough to the bottom of the table that there's no reason to be complacent whether we have won a few in a row or not,'' he said. "Subconsciously, sometimes you can get a bit complacent but I haven't felt that at all in the team. There's still a long way to go with this team and we are not taking anything for granted.''
The Warriors will go into Sunday's match without prop Russell Packer, whose hamstring injury is still bothering him, and Charlie Gubb will get the nod ahead of Suaia Matagi to replace him in the playing squad.
Winger Manu Vatuvei, who has been in very good form, is still a major doubt with a shin contusion but will travel with the squad today and will be given until Saturday to prove his fitness. Ngani Laumape will play if Vatuvei is ruled out.
The Warriors have a poor record in Perth, where they have lost all four games they have played, and it prompted Elliott to quiz former Breakers coach Andrej Lemanis about how they were able to achieve success despite the massive travel which makes it one of the longest trips in professional sport.
The Breakers collected their third-straight Australian NBL title this year, and have enjoyed good success in Western Australia including the match that clinched this year's championship.
"Andrej made it simple,'' Elliott said. "He said he kept his team in their own time zone as long as he could and said travelling two days before [the game] worked best for them. He also gave little tips about when to get players active and when to rest. His feedback was really important.''