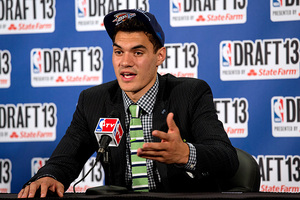 Former Oklahoma City Thunder star James Harden has denied mocking his former team for selecting Kiwi centre Steven Adams in the NBA draft.
Harden was traded from the Thunder to the Houston Rockets last year for shooting guards Kevin Martin, Jeremy Lamb and the first round draft pick that was used to select Adams.
ESPN reporter Chris Vernon accused Harden of sending a mocking tweet shortly after the Thunder's pick.
It said: "Steven Adams loooooooooooooooool #Thunder #OklahomaCity"
The post was quickly deleted.
Harden later denied sending the tweet.
"I don't know what's going on but I haven't been on twitter," he posted.
Adams is the first New Zealander to be selected in the first round of the NBA draft.
If he can win playing time for the Thunder, he will compete for a championship alongside superstars Kevin Durant and Russell Westbrook.
- nzherald.co.nz