Steven Adams is on the verge of joining the American NBA and becoming NZ's best-known international sports star - even more famous than his big sister, Val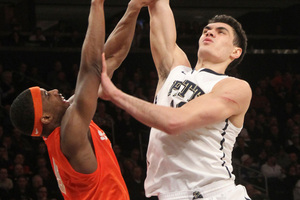 Even when you cast a 2m shadow on the red carpet, it takes a lot to stand out in Hollywood. Yet as A-listers and stars of the silver screen preened and posed in front of cameras at the LA Premiere of Now You See Me last month, all eyes glanced up.
Steven Adams, a 19-year-old from Rotorua, was making his red carpet debut - invited along as a sports management company guest.
At one point, he cajoled the microphone off an entertainment channel reporter and began conducting mock hilarious interviews and posing for photos with the stars of the movie, including the lead, Isla Fisher.
Like everyone else, Fisher was enchanted, recalls a marketing executive there on the night. Everyone was asking, "Who is this guy?"
He's been drawing a lot of attention in the United States lately. That night, Adams had charmed them with his easy-going personality, as large as his size 19 shoes are long. Most often, and more importantly, it's his basketball skills.
And the attention he's gathering is about to get even more intense.
Next week, Adams' name is likely to be called in the first round of the NBA draft, a golden ticket lottery where the winners collect millions. The 30 NBA teams pick fresh recruits in two rounds and no New Zealander has ever been picked in the first round. Sean Marks went 44th in 1998; some predictions have Adams going as high as number 10, which would put him on a starting salary close to US$2 million ($2.6 million).
Whichever team picks him, knowledgeable insiders predict he'll be no bit-player. "He will make a major impact on the NBA," said NBA cult figure Brian Scalabrine, a veteran of the Boston Celtics, the New Jersey Nets and the Chicago Bulls.
"And I'm not the only one who thinks this. Every other (team general manager) who sees Steven Adams is going to realise that a kid like this does not come around every year."

We're in Los Angeles to meet Steven Adams for a story on TV3's 3rd Degree, spending a few days with him as he prepares for the draft. What we discover is that Adams is walking proof that first impressions are not always the lasting ones.
Yes, the first thing you notice is his height. Even in the game of titans, his 2.13m frame (that's 7ft in basketball parlance) is admired.
After meeting him, though, his physical attributes aren't what stick with you. It's his personality - his tenacity; his ability to switch from being a fun-loving big kid one minute, to being a zen-like, clinical combatant on the court the next; his determination to overcome.
And there has been a lot to overcome.
Five years ago, he was barely picking up a ball, and was on the road to rebellion, not riches.
Then along came the sport he was genetically predisposed to play and an incredible cast of characters who helped him turn his life around.
We asked if he ever pinched himself, thinking, "wow, not that long ago I was in Rotorua wagging school and now look at me".
"There's been a couple of times, but mostly I don't think of it as negative stuff," said Adams. "In New Zealand, I didn't really give myself any compliments or nothing; I didn't reflect on myself or be proud of myself and that really brought me down a lot. I was kind of depressed. And then I learned to be proud of where I got."
From a family that didn't have very much, there's a lot to be proud of among the Adams. Steven is the youngest of 18. Among his 17 half-brothers and sisters are at least two champion basketballers (Warren and Ralph) and half-sister Valerie, the double Olympic shot put gold medallist.
The boys of the family average 2.1m (6ft 9in) and the girls 1.83m (6ft), most of them having inherited their father's height.
"They say he was 7ft 1in," Steven said of his English-born father. "He played no sport really, he was in the navy, that's how he found New Zealand - he just fell in love with the place, stayed there, had a bunch of kids and ended up giving them amazing genes."
Steven remains close to his family, though it's hard keeping in touch with Valerie now, with their twin international sporting careers. But there's Skype, and last year Valerie would adjust her training schedule to watch Steven's US college games.
As incredible as it must be to have older siblings who've already blazed paths to sporting greatness, it's just another thing Adams takes in his stride.
"I don't know, it just seems normal to me, even with Valerie and stuff; you know gold medallist or whatever, I didn't think anything of it. I'm definitely proud of her and stuff but I just see her as a sister. That's how it's always been."
Of all his siblings, big brother Warren played a crucial role at a turning point in Steven's life. Basketball coach Doug Courtney had re-introduced 14-year-old Steven to the sport he'd first played in primary school. ("I sucked," Adams recalled of his early years on the court. "I was in the B team.") But Adams was up to no good. His father had died the year before and he was taking advantage of new-found freedom. Hanging out with mates, not going to school.
Warren decided the best thing that could happen was for him to put his little brother in the car and drive to Wellington to see Kenny McFadden.
An American who came to Wellington as an import player, McFadden had stayed on and established the New Zealand Basketball Academy. Warren had played with McFadden in the national basketball league so the American knew Steven's pedigree.
He took him on. But if Steven was serious, McFadden told him, he'd have to commit to training every morning at 6am before school. Soon, Adams was texting McFadden every night to make sure he'd get picked up at 5.30am. "He went for about four years straight where he never missed a training," McFadden said.
"Here was a kid who don't miss no trainings, is energetic, enthusiastic and had tunnel vision."
But it was what was going on away from the court, too that had perhaps a more significant impact. When he arrived in Wellington, Adams was struggling to read and write. McFadden had told him if he wanted to make it in the United States, he was going to have to earn a college scholarship. And even basketball scholars needed good grades.
Another powerful trait that has got Adams where he is today is that he's a fast learner. He didn't need McFadden to give him the message twice. Adams enrolled at the private Scots College and knuckled down, even if it took a bit of adjusting. It's a gentrified place, where the students wear blazers for uniforms - a lanky kid from the streets of Rotorua was bound to stand out.
"When he put the suit on for the first time and walked into Scots College, I thought about the Fresh Prince of Bel Air," said McFadden.
Indeed, just like the Will Smith character of that 1990s TV classic comedy, Adams had smarts - not just street smarts but raw intelligence too. His grades turned around.
And those rough edges were being lovingly smoothed off him too. A family friend, Blossom Cameron, had taken Adams into her home, eventually becoming his legal guardian.
Adams admits she had a lot of work to do - teaching him life skills, hygiene, diet and dress sense, all things which were missing when he arrived on her doorstep.
"My English would be just like partly swearing all the time. I was rugged, man. I was a mess. I was hori-as, like 'wassup?'. I didn't even notice until I heard myself on a past video and it was like, 'what the hell'?
But with Cameron, McFadden, and Scots College in support roles, Adams was primed for success when a coach from the University of Pittsburgh, Jamie Dixon (who had played in New Zealand as an import himself) came to Wellington to scout for talent.
McFadden pointed out Adams and Dixon was convinced he'd found raw talent with NBA potential.
Adams spent last year at Pittsburgh, adjusting not only to the style of play.
"It was way different than playing in New Zealand; the whole campus knows you, everyone's watching. I kind of struggled at first, I just didn't really like all the attention." But he adapted to it. to.
"Judging by where I'm going, you kind of have to get used to it so I have learned to embrace it instead of just trying to push it away."
In April, he opted to declare himself available for the NBA draft.
It's a decision he made because he wants to take care of his family - and the NBA will come with big enough cheques to easily do that.
Again, in that laid-back, nonchalant way, though, Adams will tell you he hasn't really thought about becoming a millionaire - which he's almost certain to do next week.
"For me it's like no big deal because where I feel most passionate is on the court getting better ... making sure I can become the best basketball player that I can be. Instead of (being) like, 'hey guys, I'm a millionaire'.
"All I got to do is work hard and then everything else will take care of itself."
The NBA can be bruising and brutal, crushing vulnerable spirits and weak players. But when you meet Steven Adams, marvel at his athleticism and realise how emotionally robust and insightful he is, you just know he's going to be okay.

• You can see the programme on Steven Adams at 3news.co.nz/3rd Degree.