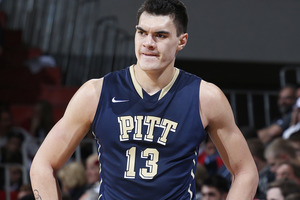 New Zealand teenager Steven Adams has this week been tipped by American magazine Sports Illustrated to be selected as the 11th pick of the NBA draft next Friday (NZT).
Three weeks ago SI.com projected that Adams would go to the Boston Celtics as the 16th pick, but yesterday in an amended mock first round draft they predicted the Pittsburgh freshman would join the Philadelphia 76ers.
"Everyone knows Steven Adams is a project, one who will be best served spending all of next season in the D-League getting used to the speed of an NBA game," SI.com said in their mock draft.
But SI.com said Adams' workouts have GM's drooling.
"If he were as good as the sum of his parts, he would be in the mix for No.1," said an Eastern Conference executive.
"Philadelphia needs a big man and new GM Sam Hinkie, a disciple of Daryl Morey in Houston, could make a play for a high-risk/higher-reward big man."
Philadelphia had playoff ambitions for their 2012/13 season after landing star centre Andrew Bynum in a blockbuster three-team trade that sent superstar Dwight Howard to the Los Angeles Lakers.
However, those hopes were dashed when Bynum suffered a bone bruise in his right knee and then aggravated the injury ten pin bowling.
They eventually finished with 34 wins and 48 losses and may lose Bynum in the offseason - freeing up playing time for Adams.
Last week American website draftexpress.com projected Adams to join the Portland Trailblazers as the 10th pick of the draft.
"Adams' main virtues as a NBA prospect continue to revolve heavily around his physical profile, as he has rare size, a strong frame, and excellent athleticism," draftexpress.com said in their mock draft.
"He runs the floor well, is extremely mobile, and has very good quickness for a player his height, also being capable of playing above the rim when called upon."
Generally the lowest-placed sides from the previous season get the first picks, though teams can trade their draft choices to move higher up the list.
The key for Adams is being a first-round top 30 pick. That would guarantee a salary of over US$1 million (last year's final first round pick earned US$850,00 ($1.05 million).
This year's draft is noticeably short on genuine star quality which may be another point in his favour.
If it eventuates, Adams would become the first New Zealander to be drafted in the first round and the third Kiwi to feature in the NBA.
Sean Marks was the 44th pick in the 1998 draft, while Kirk Penney was not selected from the 2003 draft but played briefly for the Heat, Clippers and Spurs.
Call it the curious case of Steven Adams.
On paper, Adams is impressive. He's a legitimate 7-foot, 254 pounds, with a wingspan of 7-5 and enormous hands (9.5 inches long, 11 inches wide).
In workouts, he is even better. Over the last few weeks Adams has showcased superior athleticism for a big man, while surprising team executives with a nice perimeter touch. He screens well, looks fluid in the pick-and-roll and runs the floor like a deer.
The problem? When the lights are on, Adams looks lost. At Pittsburgh, scouts routinely commented that the game appeared too fast for Adams, an opinion that was reiterated by team executives at the NBA combine last month. In addition, multiple executives expressed concern about Adams laid back disposition.
"Everyone wants a killer," says an Eastern Conference executive. "But Adams comes off like this easygoing guy who just likes to kick back and play his guitar."
How high will Adams go? His position on team draft boards fluctuates wildly. A team that wants a sure thing won't touch him. A team that is willing to wait a few years to unlock his potential will hope to get a steal.