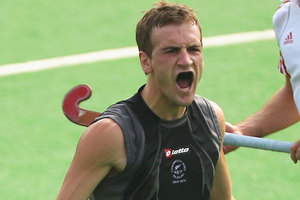 The Black Sticks Men remain undefeated at the World League Semi-Final in Rotterdam after a 4-2 win over Ireland tonight.
With the game locked up at one goal apiece at halftime, the Kiwis raised the intensity to pull away in the second half with three more goals sealing the result.
Nick Haig, Blair Hilton and Andy Hayward were on the score sheet for New Zealand along with an Ireland own goal.
The Black Sticks played some brilliant hockey against Ireland, a team that are playing a great deal better than their world ranking of 15 would suggest.
Hamish McGregor was again solid for the Black Sticks in goal, and was complemented by an attack which continues to improve and gel together.
Head coach Colin Batch said the win was a big step in the right direction for his side at the tournament leading on from an opening draw against Netherlands.
"Today was a big step forward. Ireland have proven recently that they're a difficult team to play against and we overcame a lot of hurdles with players given cards to go on and secure the win," Batch said.
"Certainly in the second half we were a lot more consistent and we converted two of three penalty corners which we see as a strength of our game. We have a nice little break now to refocus before we go up against India."
Ireland was first to score after a penalty corner drag flick struck Dean Couzins in the chest as the last line of defence in goal. With a penalty stroke awarded, Alan Sothern obliged and caught Hamish McGregor diving the wrong way.
The Black Sticks drew level in the 24th minute through Nick Haig who drilled a ball into the circle and pressured an Irish defender to deflect the ball past his keeper for an own goal.
New Zealand was forced to play the final 10 minutes of the first half with 10 minutes after Arun Panchia was shown a yellow card for catching his opposite player in the head with a high stick.
The Black Sticks took the lead in the 47th minute when Haig flicked a penalty corner into the top right corner of the net.
Things went awry from the restart with Michael Watt putting a squeeze shot past McGregor to once again level the scores.
But it was the Kiwis who took hold of the game from that point with Hugo Inglis delivering a great ball from a baseline run for Blair Hilton to score before Andy Hayward put the game beyond doubt with one of his trademark drag flicks from a penalty corner with less than five minutes remaining.
The Black Sticks Men play their third and final pool game against India at 3am Tuesday morning (NZ time) before heading into a do-or-die cross-over playoff.
- APNZ