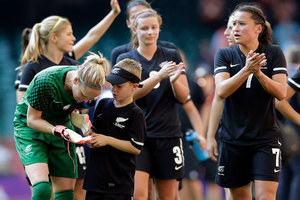 The New Zealand women's football side are keen to beat Australia for the first time in nearly 20 years, but they have even more reason to beat their transtasman rivals now they have performance targets to meet as a team receiving government funding.
The Football Ferns take on Australia behind closed doors in Canberra tomorrow - it allows both coaches to make a large number of changes without worrying about the result - before a second, televised match in the Australian capital on Sunday.
They then take on Japan in Tosu next Thursday and High Performance Sport New Zealand (HPSNZ) will be taking a keen interest in the results.
HPSNZ have identified women's football as a campaign sport capable of medalling at the 2016 Olympics in Rio and allocated $800,000 in funding each year for two years. They will look to continue funding heading through to the 2015 World Cup and Olympics but only if the Football Ferns meet performance targets.
They need to play at least 10 internationals a year and at least four against top-10 sides and also ensure coaches are well resourced and players given the right support in the right environment, like access to things like facilities and physiotherapy.
``It's a massive boost for the team and programme because it means we can plan with surety for at least two years and get top fixtures for the team,'' New Zealand Football high performance director Fred de Jong said. ``We haven't been able to do that in the past because we have never been quite sure we could afford to play the games. It has allowed us to talk to opposition teams and commit to games.''
Australia are ninth in the world rankings and Japan third and the Football Ferns have already played the seventh-ranked English (lost 3-1) this year and are due to meet the US, who have topped the women's rankings for five years, and Switzerland later this year.
HPSNZ expect the Football Ferns to beat a top-10 side each year.
New Zealand are presently ranked 20th in the women's rankings - they have been in and around the early 20s for some time - and have targeted a medal in Rio. That might sound ambitious given the increasing quality of the women's game but they finished eighth in the small field of only 12 teams in London (not all the best teams get through qualifying because of limited numbers) and have achieved results against good teams like France, Italy and England in the past.
``Women's football is an area we can make strides in and we should focus on,'' de Jong said. ``The impact we can make is so much more achievable than men's football. It's also a massive growth area in the sport and, if we do well at the international level, we will see a real benefit of that right throughout the programme.''
The Football Ferns haven't beaten Australia since a 2-1 win in Port Moresby in 1994, although they probably should have done it in their 1-1 draw in Wollongong last year when Australia equalised in injury time.
They will be without skipper Rebecca Smith, who has missed most of the German season with a knee injury, and Hayley Bowden for this week's games. Defender Abbey Erceg will captain the side in Smith's absence.
- APNZ