Rugby league tackles violence in its playing community, expanding from small beginnings in a Manukau club.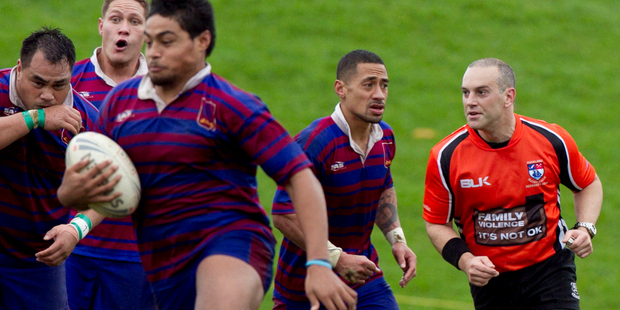 Tough working-class sport rugby league is taking a stand against family violence. Big banners dominating the Manukau league club's recently renovated clubhouse at Moyle Park in Mangere declare "It's Not OK".
Referees in senior games across Auckland proclaim "Family violence - It's Not OK" on their new jerseys.
Counties Manukau zone manager Kasey King has teamed up with anti-violence campaigner Vic Tamati to run an emotional "roadshow" against family violence which every league player in the zone had to attend last season, and which is extending this season to parents on the sidelines.
Northland and Canterbury are running their own projects.
The campaign is remaking the culture around rugby league - although not the sport itself.
"Rugby league is a gladiatorial sport. It's a tough sport played by tough men," says Mr King.
"That doesn't mean it's not played fairly. You play to win, but you play in the spirit of sport."
The sport was born 120 years ago when working-class men in northern England found it hard to get time off work to play, so a professional league was founded in opposition to "amateur" rugby. In New Zealand today league remains, in Mr King's words, "a blue-collar sport".
In Manukau, especially, that means overwhelmingly Maori and Pacific.
"We have few Europeans in our club," says Manukau club chairman John Davis-Rawiri.
Work, for today's blue-collar workers, is insecure. "One minute they're working, the next minute they're not," says Mr Davis-Rawiri. "Some of them are contractors, they pick up work where they can."
And with insecure work come insecure families.
"There's still a large percentage of single parents among our kids playing league," Mr King says.
Mr Davis-Rawiri adds: "There would have been more people who've grown up in family violence in this club than have not grown up with family violence."
The sport itself has also been insecure. A 2009 Sport and Recreation NZ review found it "in crisis", with registered players down from 30,000-40,000 in the 1990s to below 17,000, compared with 130,000 in rugby.
The state agency agreed to give the sport $452,500 on condition that it implement a radical restructuring. Former Navman boss Jim Doyle came in as chief executive and led a new strategy which redefined league as "more than just a game".
"Family and community" were placed at the centre of a matrix which also included "increased participation", "game development" and "culture of excellence".
The Manukau club had already started down the same path. A group of "nannies" led by Mr Davis-Rawiri's wife, Billie Stainton, who then chaired the club, decided about eight years ago that it needed to be made safe for their grandchildren. At the time, the games were "very aggro".
"We had guys turning up with gang patches; that does not happen now," Ms Stainton says.
"We used to have a culture of everyone drinking around the field. Most people have changed their attitudes as there have been occasions when we have contacted the local constabulary."
Mr Davis-Rawiri says the club realised that sideline behaviour was just an outcome of the way people had learned to behave in their families.
"To address it, we had to dig deeper and go back to the root sources; it's what's been going on in the homes."
At about the same time the coach of the club's premier team, Victor Heke, saw a presentation about the "It's Not OK" campaign in his job at Counties Manukau Sport. He immediately saw its potential for his players.
"There were some in financial difficulty, which led to domestic strains. Some were worse. We are not in a perfect world," he says.
"You could have the best player in the world, and he turns up not in the right frame of mind because he's had an argument with his wife, and he's not going to be any good on the field."
Mr Heke brought Vic Tamati in to tell his own story, initially to the club committee. Committee member Pania Wilson describes an extraordinary impact.
"It really broke people down to the point where they had to do a lot of self-inward looking. It blew them away, it was really deep," she says.
"It was like looking in the mirror: that's how I am. If you can do that, you have already made change."
The committee adopted the theme. Mr Tamati told his powerful story to the players too. Mr Heke reinforced it.
"I said, 'Guys, it's as simple as this: If any of you don't agree that family violence is not OK, I don't want you in my team.' It was 100 per cent buy-in."
"It's Not OK" banners went up in the clubrooms. "What was the norm [previously] was there would be arguments start up and everyone would turn their back and let them carry on," Mr Davis-Rawiri says.
"What happens now is: 'Can't you read those signs up on the wall? Take it outside."'
Renovations included a new room intended for a gym. The club decided to offer it instead to a playgroup during the day, and to Mr Tamati and his colleague Taliaoa Filipo Tipoai to run an anti-violence programme called Safe Man Safe Family in the evenings.
On Monday and Tuesday nights, while tag teams practise on Moyle Park outside, anyone can come into that room by a side door to seek help. Mr Tipoai advertises it on Samoan radio.
At one session, Nofo Sopoaga, 33, talks quietly about how he used to hit and throw things at his wife when she had no money to pay the rent for the couple and their 3-year-old son.
"We used to live in other people's houses," he says. "We used to get kicked out from the house we used to stay in. Now we are in a caravan."
His wife works. Mr Sopoaga gets casual work when he can. His pastor introduced him to the programme, with two other men from the church, and has brought the three men there every week for four months.
"I don't do that violence any more," Mr Sopoaga says. "I have learned how to love, how to show my love and keep the love inside the family."
That message of love is now spreading through the tough league world. Mr Tamati and Mr King have run workshops for players and officials in all 12 clubs in Counties Manukau and are about to start another round, this time for parents and other spectators.
The Manukau club is seeking a council permit to paint a super-sized "It's Not OK" sign on its roof to reach drivers on the airport motorway.
NZ Rugby League's community development manager, Dain Guttenbeil, says league is working with the Education Ministry to develop more playgroups for preschoolers and books for schools such as one on Whakatane-born league star Benji Marshall.
The sport is reaping the benefits, with player numbers more than doubling to 38,000.
"Our mantra changed to 'more than just a game'. That meant we took on the responsibility to use rugby league to achieve better lives," Mr Guttenbeil says.
"Just because we're rough and tough on the field doesn't mean off the field we need to be the same."


For more information
• Safe Man Safe Family:
• 0210-262-5856, safemansafefamily@gmail.com, also on Facebook.
• It's Not OK helpline: 0800-456-450.