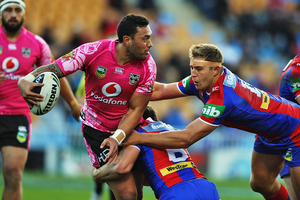 Justis Kamu looks at the key issues surrounding the NRL this week including the Warriors' bounce back win and the upcoming State of Origin series.
1. Mateo and Vatuvei show the way
Sunday's 28-12 win for the Warriors over the Newcastle Knights started the process of bringing back some dignity to a club that was shot to pieces after that disastrous loss to the Penrith Panthers.
The Warriors managed to clinch a morale boosting bounce-back victory but their season won't be able to survive on the occasional spurt of victory.
Come Monday night against the Brisbane Broncos, it would've been 325 days or 46 weeks since the Warriors last sealed back to back wins in the competition. The round 12 match looms as their best opportunity to eclipse this drought and ignite an unlikely outside chance of making a run for the playoffs.
Whilst many may scoff at talks of playoffs, a win next week would leave the Warriors just two wins outside of the top eight. Their opponents will field a weakened side without captain Sam Thaiday, Justin Hodges, Corey Parker, and Matt Gillett who will all be on State of Origin duty with Queensland.
In re-signed stars Feleti Mateo and Manu Vatuvei the Warriors have two seasoned campaigners who displayed last weekend that they care about the side's current plight and can shift the season's momentum. Mateo was immense against the Knights and the former captain of the Tongan national side showed that he has a huge motor to match his educated offload and slick footwork. Vatuvei was more beauty than beast making plenty of running metres (154m) and looked comfortable under the high ball and on defence.
Both are staying in Auckland for the next two seasons and on the evidence of their performances on Sunday, they aren't going to put up their feet and sit easy on their new and improved income salaries.
One win hasn't changed the general outlook for this for this hit-or-miss bunch. But for those who still believe in this lot, they are not out of playoffs contention just yet.
2. Maloney's Roosters move pays off
Congratulations to former Warriors' five-eighth James Maloney who will make his State of Origin debut for New South Wales in next week's Origin opener on June 5 in Sydney.
NSW Coach Laurie Daley selected Maloney over last year's standoff Todd Carney to partner Mitchell Pearce in the halves. Maloney has long shown he is a player that had the demeanor and skills to play at the Origin level and was on the cusp of selection last season at the Warriors before his individual form coupled with the team's woes decided his fate otherwise.
The NSW standoff spot had come down to a showdown between Maloney and Carney to play alongside Pearce who has won just two games in nine Origin starts. In the end, the Roosters combination won out as Maloney's composure and calming influence on Pearce this season saw him pip the Sharks five-eighth.
While Maloney makes his State of Origin debut as a Rooster, his stint as a Warriors has proven to be an integral foundation for his development as a genuine first grader. At the time of his arrival in Auckland in 2010, Maloney had featured in just four games in the NRL for the Melbourne Storm without scoring any points.
After three seasons in Auckland his ranking as one of the game's finer five-eighths was evident as he led the side to the 2011 grand final which saw a number of clubs line up for his signature as he came off contract. The Roosters snapped him up and eleven games later, Maloney will suit up for a desperate NSW side who will try to stop an eighth straight series victory for the Maroons.
3. Diehard Warriors fans stand strong
The Warriors win on the weekend owes much to the 18th man - the fans/members - who turned out in 9000 strong to support their beloved side.
Although Warriors Nation have been served a number of flat performances this season, the diehard core were back to lift their team after the most difficult week for the club this year.
Many fans had voiced their frustration even anger at the fact that players were seen laughing, joking and showing little care after being on the receiving end of a 62-8 spanking from the Panthers.
The Warriors club are fortunate to have a very loyal and devoted set of fans/members who show up year after year to Mt Smart Stadium knowing full well that the team's season will be an unpredictable rollercoaster ride. So it was a fitting for their loyal supporter base to see a team performance that was not only victorious but demonstrated some commitment and passion for the jersey.
4. A look at the State of Origin debutants
Andrew Fifita (NSW)
Club: Cronulla Sharks
Position: Prop
His year so far: Fifita has been the standout prop in the NRL this season leading the league in hitups (190), running for 1666m, completing 379 tackles, and scoring four tries.
Expected impact: Watch for the former West Tigers junior to empty the tank in two 20 minute stints. He has a big engine and will be called upon to destroy a tiring QLD defence - he will do plenty of damage, the Maroons must try to contain this kid or it will be a tough night in Sydney.
Blake Ferguson (NSW)
Club: Canberra Raiders
Position: Centre but will play on the wing
His year so far: It seemed after round one of this season that Ferguson was on his way out of Canberra after he missed a team recovery session to hangout with Josh Dugan and drink pineapple cruisers. Ferguson sneaks into the NSW team having featured in eight of his club's eleven matches but has managed to find the tryline on seven occasions.
Expected impact: He's big, lanky and fast which makes him an awkward opponent for any opposition winger. NSW will look to use his height (191m) to their advantage for the fifth tackle option with the shorter but more experienced Darius Boyd (185m) as his maker.
James Maloney (NSW)
Club: Sydney Roosters
Position: Five eighth
His year so far: The former Warrior is the competition's leading points scored with 98. He has scored four tries, made six line breaks, and kicked 41 goals in the red, white and blue of the Roosters.
Expected impact: His goalkicking will be crucial if NSW are to stay in the game. Maloney is a battler and will do his best to outdo Jonathan Thurston and Cooper Cronk. He and Pearce aren't as talented as their Maroons halves pair but if they stick to the task and can make significant plays off the back of their mobile forwad pacNSW could cause an upset.
Chris McQueen (QLD)
Club: South Sydney Rabbitohs
Position: Secondrow
His year so far: McQueen has made his name in the forwards - not an easy task considering that Souths have arguably the strongest pack in the competition. He has only touched down once this season but has 280 tackles and charged for 751m after 11 rounds.
Expected impact: Off the bench, he won't turn a match with his individual skill but the heavily tattooed forward runs hard, makes his tackles and more importantly he doesn't force a pass or has a tendency to make a mistake. Those latter characteristics are critical in the high intensity pressure-cooker environment that exists on the Origin stage. Formerly a winger, he will act as cover for the backline if one of the outsides goes down with an injury.
5. Your comments
From AC
It's all well and good to say get rid of Mannering as captain, but with who? At least with Mannering, he does give his all every week. He's never going to be a flashy player but you don't necessarily need your captain to be that. At least he does seem genuinely unhappy and upset with the teams performance, unlike some of his players.
- In no particular order, a number of current players could be fill the skipper role - Sam Rapira, Russell Packer, Thomas Leuluai, Felete Mateo, Jacob Lillyman and even Shaun Johnson (after 2 or 3 more seasons).
All these guys have leadership ability but need to be given the chance to do so. They all have different attributes which would help them be a captain if not on par but better than what the current Warriors leader is doing. All are approaching 100 or 150 games so they are out and out professionals who understand the requirements of being a good captain.
Each player in the Warriors side gives their all for the club every week they play but with varying degrees of success, it's not just Mannering. Agreed, a captain does not need to be flashy but he needs to be able to lay down the law when the Warriors are up against it. The side is missing an authoritative figure on the field, it's great that Mannering gives his all, and leads by example but we need a leader who is the total package and ticks all the boxes.
From inkies
Manu saluting the sky after a try - what for?
- Vatuvei saluting the sky is a tribute to old Warriors teammate and close friend Sonny Fai who passed away in 2011. Personally, that salute is fine, Fai was a well liked by all at the club by both the team and fans alike. It is a non-factor to the team's lack of success this season and the last. Also one's personal traits, practices or values can assist a player to give them an edge come gameday so if saluting the sky in honour of his friend helps to lift Vatuvei let him be.
6. Team of the week - round 11
1. Fullback - William Zillman (Titans)
2. Wing - Kevin Gordan (Titans)
3. Centre - Jamal Idris (Titans)
4. Centre - Jamie Lyon (Sea Eagles)
5. Wing - David Williams (Sea Eagles)
6. Five-eighth - Todd Carney (Sharks)
7. Halfback - Albert Kelly (Eels)
8. Prop - Nigel Plum (Panthers)
9. Hooker - Robbie Farah (Tigers)
10. Prop - Andrew Fifita (Sharks)
11. Secondrow - Feleti Mateo (Warriors)
12. Secondrow - Jayson Bukuya (Sharks)
13. Lock - Adam Docker (Panthers)