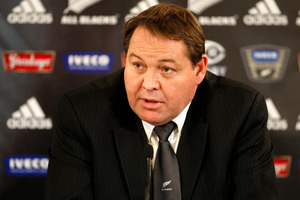 No Ali Williams, and now no Sam Whitelock for next month's three tests against France - New Zealand's locking stocks are on the slide.
Whitelock's broken ring finger on his right hand, suffered in the early stages of the Crusaders' defeat to the Chiefs in Hamilton on Friday night, will rule him out for up to six weeks. Another X-ray will give a clearer picture of his recovery time, but All Blacks coach Steve Hansen doesn't expect the 24-year-old to be available for the tests in Auckland, Christchurch and New Plymouth.
The ruling out of Whitelock, the All Blacks' top lock, comes hard on the heels of Williams' retirement from test rugby, a withdrawal which resulted in Hurricane Jeremy Thrush being called into the All Blacks' second wider training group camp which finishes tomorrow.
It means the locking combination for the first test at Eden Park on June 8 will be Luke Romano, Whitelock's teammate at the Crusaders, and Brodie Retallick from the Chiefs, providing both remain fit.
A plus for Hansen is the fact the Chiefs have a bye this weekend. The Crusaders, however, have a tough home fixture against the Waratahs on Friday night.
It also means Dominic Bird, the 2.06m 22-year-old from the Crusaders who will start against the Waratahs, is likely to be fast-tracked into test rugby with a call-up to the reserves bench in Auckland.
"While this is disappointing for Sam, and for the All Blacks, one man's misfortune is another man's opportunity, so we look forward to seeing that opportunity being realised," Hansen said last night.
Another injury to one of his main ball winners and Hansen might not be as philosophical. Thrush's call-up is deserved given his excellent form for the Hurricanes, but beyond the 28-year-old the pickings are slim.
Hansen, however, said he was comfortable with the prospect of Bird making his test debut in what will be a reprise of the 2011 World Cup final.
"He's a good athlete and he's not just a big man," Hansen told TV3. "He's agile, he's got good aerial skills and he's got a bit about him. He's certainly a young man with a big future."
It is an excellent opportunity for Bird, a confident individual from Hawkes Bay who has come through the Canterbury rugby system. Bird will get the chance to show Hansen his wares before the end-of-year tour to Europe and, while Williams could have filled in next month, his body wasn't up to it and he wouldn't have been selected for the November tests.
Crusaders coach Todd Blackadder said while Bird has had limited opportunities behind Romano this season, his first in Super Rugby, there was no question he was up to the All Blacks challenge.
"He's a tough, determined character. He made the step up to Super Rugby really well and he plays and trains alongside these guys all the time," Blackadder said.
All Blacks hooker Keven Mealamu, who knows a thing or two about broken fingers, said it would have been too difficult for Whitelock to play on. "It's niggly, especially for someone like Sammy who has to catch balls in the lineouts and kick-offs," he said.
Second guessing the second row
Locked: Brodie Retallick (Chiefs) 13 tests. Tough, a ruck clean-out specialist. Luke Romano (Crusaders) 11 tests. Skilful, a good ball carrier. Dominic Bird (Crusaders) 0 tests. Tall, agile, tough. Jeremy Thrush (Hurricanes) 0 tests. In form, hard working.
Crocked: Sam Whitelock (Crusaders) 39 tests. The All Blacks' top lock. Classy, hard working. Ali Williams (Blues 77 tests). Retired, but a player with immense experience.
Who else? Craig Clarke (Chiefs) 0 tests. Chiefs captain is off to Ireland club after this season. Jarrad Hoeata (Highlanders) 3 tests. Has All Blacks history, but form has nose-dived. Tom Donnelly (Crusaders) 15 tests. Ranked after Bird at franchise. Brad Thorn (Highlanders) 59 tests. At 38, age is catching up with the old warhorse.
- APNZ