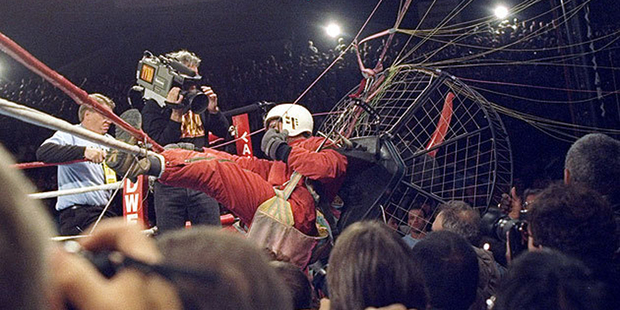 The thing about Vegas is the untrue story seems so much more probable than the true and sport is still a mainstay of this engagingly strange city, captured in the iconic Fear and Loathing in Las Vegas.
This is a difficult thing to say for a journalist who read Hunter S. Thompson's famous introduction of gonzo journalism (and hated it) but there is something kind of weird about sitting in a Las Vegas hotel room writing about a writer who used to write sitting in a Las Vegas hotel room.
Difference was, of course, that Thompson was high on booze and drugs and became world famous for inventing gonzo - the art of making the writer a central part of the story, or even THE story; a blend of fact and fiction and stream of consciousness that, as one critic beautifully put it, allowed Thompson to make himself so ugly he called attention to all the ugliness around him.
Thompson used sportswriting as his entree to Vegas; he was nominally there to cover a motorcycle race but instead headed off into booze and drugs and illustrating the collapse of the 1960s counter-culture.
Vegas was a backdrop to the action - Sin City served as a fine chopping board for Thompson on which to slice up the cultural conventions at which he had taken aim.
But Vegas has had a bit of a bad rap. All right, it is remorselessly commercial. As a travelling companion said: "You can get anything you want in Vegas - anything - as long as you have the cabbage."
It is remorselessly, breathtakingly artificial - the extreme capital of kitsch; the copy Eiffel Tower, the Venetian casino with its reproduction of Venice and the canals; the utter silliness of the Luxor's giant Egyptian pyramid and recreation of the Sphinx.
Yet somehow it is all delivered and received with such powerful good humour that you can't help but like it; people are here to enjoy themselves, tensions are few.
The city never sleeps. It imbues you with such energy that, even when you drag yourself away from the bars, clubs, casinos and shows, going to sleep is not easy. For the first time in many years, some silly sod (all right, it was me ...) stayed out all night and got to bed at 8am. That's Vegas for you.
On another night when common sense has intervened, you lie there at 2am, knowing you are doing the right thing. But sleep is denied; the energy of the city beats at your window like a frenzied bird. It's knowing that something momentous is happening outside and you are missing it.
And that is why - if you've been waiting for the point of all this, here it comes - Las Vegas will continue to be one of the great sporting capitals of the world.
It's not just the gambling side of things, though it's that too. Walk into Caesar's Palace and there is a giant wall of televisions, broadcasting every sport you can think of and some you never knew of. They call this a sports book and Caesar's is by no means the flashest book in town.
There are hundreds of rows of seats facing this amazing bank of broadcasting, some lonely souls with notebooks jotting down things as if they were the secret of the meaning of life. On many of the screens, indecipherable odds and statistics flash up.
You can spend 20 minutes there and not understand a thing. All those numbers, like some binary code. The Luxor's down the road with its giant pyramid - maybe all this is the location of Tutankhamen's tomb...
This intertwining of sport and commerce is why Vegas will survive the twin threats of the global recession and the rise of Asian gaming.
Asia is fast on the rise as the world's premier gaming centre. Singapore's two casinos have been a big success. Macau is the gaming centre of Asia, producing US$40 billion ($48.7 billion) of turnover - not bad for a centre where many think all you can find are casinos, noodles and Russian hookers.
The entire gaming revenue of the US is only US$8 billion and Vegas delivers US$5.5 billion of that. Most of that figure is driven by the gaming tables and slots, of course, but sport - primarily boxing - delivers a decent slice of that income.
More than that, the famed Vegas big event (like Floyd Mayweather's much-anticipated fight with Robert Guerrero) or big show (the Rolling Stones just played here on their 50th anniversary tour) is the big differentiator. There seems to be a different Cirque du Soleil show on every street corner.
More than a few people came to town to see the Mayweather fight and stayed on to see the Stones. It's what gives Vegas its cachet. People come to town just to go to the sports books.
They hire out sports book rooms at places like the MGM Grand; unable or unwilling to pay the huge ticket prices for events like the Super Bowl, the World Series, NBA finals or big horse races, they come here instead - eating, drinking, and betting in the sports books even as the event is on the giant TV screens in their room.
Macau, the former Portuguese colony, is starting to flex its financial muscle. Manny Pacquiao, the famous Philippines welterweight boxer, is due to fight Brandon "Bam Bam" Rios in Macau in November. Where? That'd be at the Venetian, the Macau copy of the, er, Vegas copy.
It will be a big test for Macau, which first announced intentions with the bout involving new Chinese boxing star Zou Shiming, who beat Mexico's Eleazar Venezuela in front of 300 million TV viewers, though only 10,000 of the 15,000 stadium seats were filled. He fights again in July.
There's a long way to go for Macau, though they are building fast. The Pacquiao fight - he was regarded as the best pound-for-pound fighter on the planet until two straight losses recently - could signal the real start of Macau's determination to become more than just a gambling venue, as Vegas did. The bout comes just a week after Macau's popular Grand Prix.
Of that US$40 billion Macau turnover, an estimated US$30 billion stems from secretive Chinese tycoons who do their Kerry Packer stuff in private rooms; that "action" is never seen on the casino floors.
But, once Macau harnesses the power of the burgeoning Chinese middle class and their yuan, the fight will be on.
That could lead to a different kind of fear and loathing in Las Vegas.
True Vegas story #1
Kerry Packer
The Australian media magnate was playing the tables at the Mirage when a Texan cattleman at a neighbouring table, resenting the attention big-betting Packer was getting, created a scene. "I'm worth US$100m," said the Texan. "Yeah?" said Packer, pulling a coin out of his pocket. "Flip you for it."
True Vegas story #2
Howard Hughes
Las Vegas' most eccentric and reclusive tycoon was holed up in the Desert Inn penthouse and didn't want to leave. The hotel insisted - so oil magnate Hughes bought the hotel and casino and stayed put. Once he'd done so, he realised that the neighbouring hotel and casino had a sign that was shining unwelcome light into the room. So he bought that too.
True Vegas story #3
Fan Man
It was 1993, Riddick Bowe was fighting Evander Holyfield when James Miller literally dropped into the ring at Caesar's Palace after flying there with a large fan-powered paraglider. He was protesting, he said, at violence in sports, which was kind of ironic as his shock entry into the ring sparked a full-fledged attack on him by security guards and fans - which left him bleeding and unconscious. Way to make a point, man.
Untrue Vegas story
Cotton McKnight
In the 2004 movie DodgeBall: A True Underdog Story, a comedy where sportscaster McKnight is commentating on the "sport" being played in Vegas: "Ladies and gentlemen, I have been to the Great Wall of China, I have seen the pyramids of Egypt, I've even witnessed a grown man satisfy a camel. But never in all my years as a sportscaster have I witnessed something as improbable, as impossible, as what we've witnessed here today!"