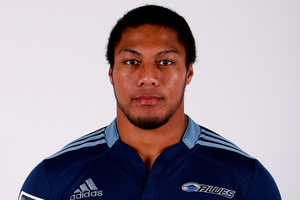 Blues winger George Moala will face a disciplinary tribunal once his assault charge is dealt with, rugby officials say.
The 22-year-old is facing two charges of injuring with intent to injure after an incident on Auckland's K Rd early on December 30.
He appeared at the Auckland District Court alongside his brother Siua this morning.
Their lawyers, Paul Wicks and Sam Wimsett, told the court their clients did have interim name suppression but they were not asking the order to be extended.
The pair were remanded without plea on bail to reappear next month.
In a statement, the New Zealand Rugby Union said the misconduct process would be put on hold until the criminal process was over.
"When a player finds himself facing charges of this nature we treat it seriously but it's important that we do not pre-judge his right to a fair judicial process.
It is a complex matter which is in the hands of George's lawyers and we are not able to comment further at this stage," said professional rugby manager Neil Sorensen.
Auckland Rugby Union chief executive Andy Dalton said Moala broke team protocol when he failed to tell team management about his charges.
"That issue was dealt with three weeks ago by the team. He is now expected to turn up to work and fulfil his obligations as any other member of the squad," Dalton said.
Soon after the alleged assault, a police spokesman told the Herald that the victim had suffered "serious cuts" to his neck and was rushed to hospital in a critical condition. His condition later improved.
Moala's appearance comes after two other high-profile rugby players appeared in court.
All Black and Hurricanes player Julian Savea appeared in the Wellington District Court last month charged with assaulting his partner, Dawn.
Savea, who fronted the "It's not OK" anti-domestic violence campaign last year, has a baby daughter with his partner.
He made a tearful public apology to her and the rest of his family. "I just want to say that I'm sorry to hurt someone that you love and care so much for," he said.
Moala's teammate, midfielder Francis Saili appeared in Manukau District Court where he pleaded guilty to driving while suspended. He is applying for a discharge without conviction.
The 22-year-old was stopped on Auckland's Southwestern Motorway on April 12.
Blues coach Sir John Kirwan revealed Saili was allegedly caught driving after losing his licence because of speeding tickets. Kirwan said Saili had apologised to the Blues.
"We just asked him to take more responsibility and make better decisions. He was disappointed, he apologised to the boys."
Following Savea's public fall from grace, New Zealand Rugby Union chief executive Steve Tew ordered an independent assessment of how the union treats its players, particularly young ones.
The move came after players' union boss Rob Nichol suggested rugby professionals were predisposed to suffering behavioural and mental challenges because of factors such as performance and selection anxiety, loneliness, relationship stress, substance abuse, stress and a lack of social support.
- APNZ