Trainer asked why she did not report condition of More Joyous before All Aged Stakes.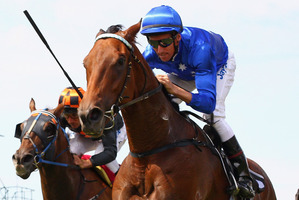 Racing NSW stewards have laid two charges against trainer Gai Waterhouse over the More Joyous affair.
Waterhouse had been charged with "failure to report to the stewards any condition or occurrence that may affect the running of a horse in a race", chief steward Ray Murrihy told the inquiry in Sydney yesterday.
She was also charged with "having failed to keep a record of treatments administered to a horse".
The trainer of the John Singleton-owned mare has pleaded not guilty to both charges.
The charges against Waterhouse relate to a problem with More Joyous before the running of the All Aged Stakes on Saturday, April 27.
Even though the horse had some heat in her neck and was treated with an antibiotic, Waterhouse did not consider it was serious enough to tell stewards.
Singleton was charged with "conduct prejudicial to the image, or interests, or welfare of racing".
He pleaded guilty, saying comments he made to the media about the mare's performance in the All Aged Stakes were "inappropriate and regrettable".
He said he hoped his 40 years in racing earned him some clemency.
"This is my first and, hopefully, my last stewards' inquiry," Singleton said.
He said the comments that led to his charge came after the "culmination of so many things on the one day". "It was the straw that broke the camel's back as far as Gai and I were concerned, with the unintentional consequence of [sparking] this inquiry." Singleton was fined a total of $15,000 for the two charges.
"We take into account your guilty plea, your very good character in the racing industry, and we're also well aware of the many, many good things you do quite unannounced in the racing field," Murrihy said. Earlier, rugby league great Andrew Johns told the inquiry he could not recall precisely what he told punter Eddie Hayson about More Joyous after drinking beer at a football match.
Johns said he was certain bookmaker Tom Waterhouse did not tell him More Joyous was "off", but he couldn't remember exactly what he told Hayson at the match, the night before the mare finished second last in the All Aged Stakes.
The inquiry was set up on raceday, after Singleton claimed Waterhouse had revealed to her bookmaker son that the horse had problems and Tom had allegedly told Johns.
Johns said he had apologised to Singleton for possibly exaggerating when he spoke to Hayson after drinking four to six beers at the football. After their conversation, Hayson had told Singleton he had heard More Joyous was not fit.
Johns told the inquiry: "I repeated the conversation which I had with Tom, but I cannot be certain of what I said ... I can swear on my life what Tom said to me, but I cannot be certain the way I worded it to Eddie Hayson.
"That's where it's confusing to me ... I was having several conversations ... several friends with me ... I cannot be certain how I worded the conversation [that] myself and Tom had.
"I'm incredibly sorry ... I was devastated that somehow I've inadvertently caused the drama that went on, that is still going on 16 days after the event."
Singleton told the inquiry Johns had approached him after the race to say he might have misspoken in his conversation with Hayson.
"Andrew volunteered to me that, 'Mate, I know on Friday I had a few beers and to be really straight with you, I'm not sure if I embellished it'," Singleton said.
Referring to his use of the word "off" on the Nine network programme The Footy Show the following day, Johns told the inquiry: "Tom never spoke about the health of the horse, he never mentioned the word 'off' ... I fumbled my words."
Former jockey Allan Robinson says he never intended to "cause a drama" for Singleton and Gai Waterhouse. But he wanted to quash any chance that the mare would run without "Singo" being aware she was sick, he said, so he rang his old friend on the day of the All Aged Stakes.
Robinson said that when he rang Singleton, his friend was quick to reassure him but called back soon after. "He said, 'Robbo, a bit of authenticity to the statement of what you just told me."'
Singleton had then demanded to know where the tip had come from.
"[I told him], 'Let's just say, a good mate of ours told him - a good football player.' That was my way of saying, I'm not telling you but I've told ya."
Outside the inquiry room, Robinson's lawyer Chris Murphy took to Twitter to complain that he had not been allowed to cross-examine the day's witnesses.
"Pity. Would love to sink my fangs into someone's throat," he wrote.
Hayson did not back More Joyous because he was told the mare had problems leading up to the race.
Hayson named his two sources to stewards in camera, after earlier saying one had a "connection" to Gai Waterhouse's stable.
-AAP