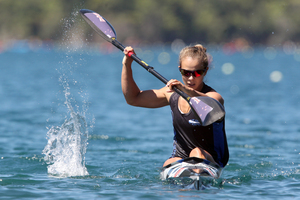 There's a certain symmetry to New Zealand's best kayaker being first on to the water when the opening World Cup event starts in Szeged, Hungary tonight.
Olympic K1 200m champion Lisa Carrington kicks off New Zealand's involvement in heat four of the K1 500m, on the water where she shot to prominence by winning the world K1 200m crown in 2011.
This time, however, Carrington will start her European season in the second discipline she's trialling out with half an eye on the Rio Olympics in 2016.
She's relishing the opportunity to branch out from contesting purely the sprint distance. If things work well this year, she's keen to give both events a serious crack to see if it is realistic to do both at Rio.
Carrington potentially has heats and semifinals tonight, finals tomorrow, followed by heats and semis in the shorter distance, with that final on Sunday.
Her prospects appear strong in her specialist distance. Only three of the other A finalists from London are contesting the event in Szeged, the best-placed of which in London was Marta Walczykiewicz of Poland, who finished fifth. In the K1 500m, two of last year's lower-placed finishers in the Olympic final are back on the water.
Former world champion and Olympic silver medallist Ben Fouhy starts his K1 1000m season from lane one in the opening heat tonight, while new K2 500m combination Teneale Hatton and Rachel Dodwell are also in the outside lane for their first tilt together.
New Zealand will also field a young K4 1000m team of Daryl and Jarrod Fitzgerald, Jasper Bats and Zac Quickenden.