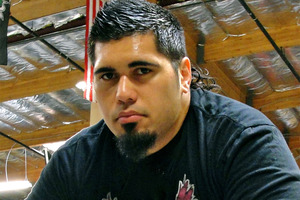 Brice Ritani-Coe believes he is more than just a tune-up fight for Joseph Parker as the South Auckland heavyweight builds up for his bout with Francois Botha next month.
New Zealander Ritani-Coe, who lives, trains and fights in Las Vegas put pen to paper today on a contract to meet Parker in a six-round bout in California on May 17.
The 27-year-old last fought in November when he was beaten in a unanimous decision by undefeated American Jerry Forrest at the Hilton Towers Hotel in Washington.
Having dropped his weight down to 124kg and standing 1.88m, Ritani-Coe is a near replica of the 118kg and 1.88m Botha, who Parker will go toe-to-toe with in Auckland on June 13.
"I'm a tough fight for anyone. I've got a granite chin and know what I'm doing,'' the 3-1-1 Ritani-Coe told the Herald from Las Vegas.
"I've worked with some of the best in the world in boxing and MMA and know I can hold my own with anyone out there.''
Ritani-Coe, who also has a strong MMA background, has been sparring with veteran Kiwi fighter Ray Sefo lately and is likely to work with Mark Hunt in the next fortnight as Hunt builds up to his showdown with Junior dos Santos at UFC 160 in Las Vegas on May 25.
"I feel like I can knock out anyone on the planet if I land. I have confidence in my punching power,'' Ritani-Coe said.
Parker (4-0) is currently in the midst of a two-month training camp in Las Vegas with Kiwi trainer Kevin Barry as he builds towards what will undoubtedly be the biggest fight of his short career.
The 21-year-old is full of promise having easily accounted for his first four opponents but the South African Botha, 44, will be a step up in class despite his advancing years.
It could be deemed a risk for Parker to have a fight so close to his bout with Botha but Ritani-Coe matches up well in size and style plus there is some added hype to have two New Zealanders lock horns in the United States.
- APNZ