Gai Waterhouse's son strenuously denies allegations.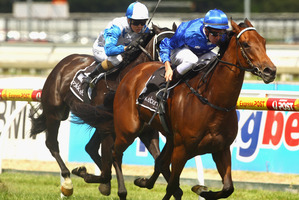 Bookmaker Tom Waterhouse will consider legal action against former family friend John Singleton over serious allegations that he was aware More Joyous could not win at Randwick on Saturday.
Singleton publicly sacked Gai Waterhouse as his trainer after the race, saying he had been told by friends her son Tom was aware of a problem with More Joyous who finished second last in the group one All Aged Stakes.
Tom Waterhouse denied Singleton's claims on various media outlets before later tweeting he was seeking legal advice. "Stunned and upsetby Singo's comments regarding @GaiWaterhouse1 and me. They are completely false and wrong. I'm meeting with lawyers today," he said.
Racing NSW stewards opened an inquiry on Saturday into the performance of More Joyous before learning of the comments made by Singleton in on-course television interviews.
The inquiry then escalated with Singleton repeating the allegations but refusing to name his sources, saying he would do so only if there was a legal obligation.
In a pre-race interview Singleton flagged that he believed all was not well with More Joyous and launched a stinging attack afterwards.
"Tom has been saying she has got problems and I don't know about them," Singleton told the Seven Network. "It's too much. It's a conflict of interest.
"I was going to have $100,000 on her before I heard that."
Racing NSW chief steward Ray Murrihy said that his panel couldnot act on rumour and wasobliged to investigate Singleton's claims.
"We cannot put much weight on racecourse tattle."
-AAP