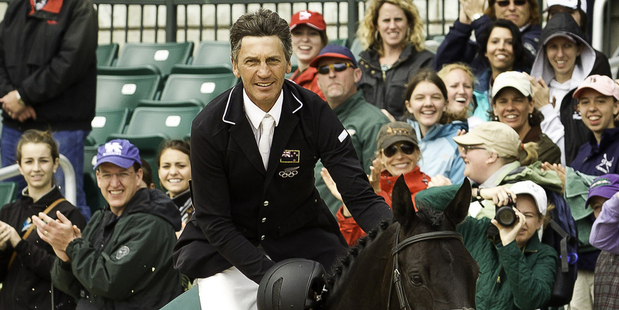 Andrew Nicholson has won the Rolex Kentucky Three Day event aboard Quimbo after riding a stunning clear round in the showjumping, picking up just three time faults.
He was also third on Calico Joe, with Kiwi teammate Jonelle Richards and The Deputy 18th.
Nicholson finished on a score of 41 penalty points, with arch-rival William Fox-Pitt (Great Britain) second on Seacookie TSF on 46.2 points, and Nicholson and Calico Joe on 52.8.
The $US80,000 win sets Nicholson up to become the first Kiwi to win the $US350,000 Rolex Grand Slam - encompassing the Burghley International Horse Trials, Mitsubishi Motors Badminton and Land Rover Burghley four star events in succession. It also extends his lead in the HSBC FEI Classics which boasts a $US250,000 prize purse.
But today was all about Kentucky.
Clear rounds were sparse in the showjumping phase, with just five riders leaving all the rails in place, and only four of those inside time.
Despite it being Quimbo's first four star start, Nicholson picked the 10-year-old Spanish horse as a winner.
"This horse is exceptional," he said. "He is very easy to ride. A win like this is great for the future. He's a proper one! Nereo is my best horse at the moment because he is a very hardened, experienced campaigner, and Quimbo is the new kid on the block, but I can see in a year's time he will be nudging Nereo a little."
Equestrian Sports New Zealand high performance coach Erik Duvander also had plenty of good things to say about Quimbo.
"We knew he was a world-class horse but winning like this in his first four star is impressive," he said.
Nicholson was chuffed too with the efforts of Calico Joe, on whom he finished third.
"He's no superstar at showjumping, and it was a big stage out there - I am happy with him, he is still winning me money and doing a good job."
Next weekend Nicholson will start Nereo and Avebury at Badminton - another event he has never won before.
"I had never won Kentucky before either, until today. I won't be thinking about that, I will be out there trying my hardest and I know I have two classy horses to go into it."
Richards and The Deputy went into the showjumping in seventh spot but 20 faults saw them slip to 18th , however Duvander was still encouraging about their future.
"They did a cracking cross country round and with a little fine tuning in the dressage and showjumping, they will have a lot more success in the future."
ESNZ high performance director Sarah Harris said today's results fitted perfectly with the "big plan".
"We want to be dominating the four star competitions, and this is a tremendous win. Aside from Badminton and Burghley, this is one of the biggest - it is an important stepping stone as we work towards next year's World Equestrian Championships."