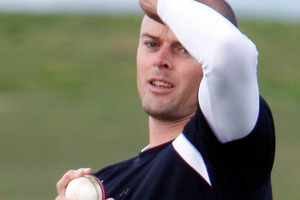 For more than 12 years, New Zealand test fans have watched Chris Martin bustle to the crease, splaying his arms for balance before looking over his left shoulder and firing 14,026 deliveries at opposition batsmen.
However, the decision to take pace bowlers Trent Boult, Doug Bracewell, Mark Gillespie, Tim Southee and Neil Wagner to England (with Ian Butler on stand-by) means 38-year-old Martin's test days appear numbered, especially with younger bowlers such as Mitchell McClenaghan and Matt Henry on the ascendancy.
Martin's performances place him among New Zealand's most successful - but possibly underrated - cricketers. In 71 tests, he has taken 233 wickets at 33.81, getting one victim for every 10 overs of toil against every test nation. Never one to suffer a sense of humour bypass, Martin even slipped a retro Dennis Lillee headband over his balding pate on hot days, amusing his legion of fans no end.
His wicket haul is the third best on New Zealand's all-time list behind Sir Richard Hadlee and Daniel Vettori. Martin's man-of-the-match 11 for 180 in 2004 to create New Zealand's first - and so far only - test win at home in 17 attempts against South Africa remains his crowning achievement.
Barring an injury catastrophe, Martin won't get a fairytale test farewell. His last appearance was as part of an attack which failed to dismiss South Africa in the infamous first test at Cape Town, a match haunted by New Zealand's first innings 45. Still, at least Martin's batting wasn't to blame - he was nought not out.
Unfortunately his bowling achievements were sometimes eclipsed by cult No11 batting exploits which 'earned' an average of 2.36 in 104 innings. He passed 100 runs in his 60th test ... to a standing ovation against Pakistan at Seddon Park in January 2011.
Martin's self-deprecating humour even prompted him to endorse a 'Learn To Bat Like Chris Martin' spoof video with Pulp Sport. It showed a montage of dreadful dismissals and included 'techniques' to emulate his 'strokemaking', like switching hands on the grip and tying a batsman's shoelaces together. The video finishes with the pithy catchphrase: "It's out now."
Hints of Martin's possible exit began last August when the team was announced to play India in Bangalore. Martin missed selection for the second time in three tests. He had been dropped earlier in the month after being part of an attack which struggled to dismiss the West Indies in Antigua. They amassed 522 in the first innings and eased to victory. Martin's return for the first test in India coincided with the hosts making 438 and winning by more than an innings.
At the time, coach Mike Hesson acknowledged it was a tough call axing Martin after the Hyderabad loss but gave no guarantee of his return. Martin subsequently earned a reprieve in Cape Town.
That appears to have been his last chance despite a test average that had not noticeably dipped. Still, a new generation of bowlers has to be brought through.
Whatever Martin's playing fate - and he potentially has a season or two of provincial cricket left - hopefully he will not be lost to the game in a wider capacity.
For most of his career, he was the most articulate player in the team, a default choice for journalists seeking insightful analysis.
He has dabbled in the media briefly. Writing or broadcasting about the game seems a logical career path. His measured approach might also be welcome in management or mentoring to help future international aspirants.