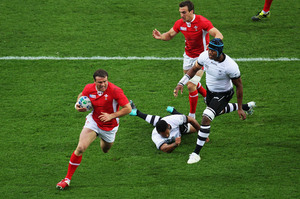 The IRB will have to be careful about shifting into congratulatory mode after nailing a more equitable tournament structure for the next World Cup.
Their mission to make the World Cup the genuine pinnacle of the game, a fair experience for all sides and to ensure the best players from all countries are present, remains a long way from being complete.
One injustice has been tackled - the 2015 tournament will see all teams handed roughly equal rest periods between games. The last tournament was marred by organisers pandering to broadcasters and refusing to schedule any major nations for midweek games, allowing them seven- or eight-day breaks while minnows, with weaker squads and fewer resources, were asked to play every four or five days.
The improved scheduling is a breakthrough but the minnows won't be celebrating; the more vexing issue of having access to their players remains unsolved.
Previous tournaments have also been tainted by allegations that emerging nations - usually Tonga, Fiji, Samoa and the United States - have been unable to persuade leading players to commit. The problem has been that clubs threaten financial consequences if the player goes to the World Cup.
The IRB at least now acknowledge that. They, as new chief executive Brett Gosper made clear last week, see it is a priority issue to be fixed.
"We have made Regulation Nine [the clause devoted to player release] a pillar of the game," said Gosper. "We recently met with representatives of the RFU, the FFR, the professional leagues in both England and France, as well as player union representatives.
"We have interrogated the robustness of the law as well and we think the best way to tackle this is to make sure that there is good communication between the respective unions and the players. We have raised the issue repeatedly and will look particularly closely at the test windows leading into the World Cup."
But, even with the IRB's sleeves rolled up and their collective muscle flexed, it's unlikely the minnows hold much faith that things will be different in 2015. The stakes are too high to believe the clubs will comply willingly; or that regular dialogue and heightened awareness will do much to dissuade clubs from breaking promises to behave.
European club competitions run concurrently with World Cups. Players from the Tier One nations will be released without question because there are cast-iron agreements in place and financial compensation paid to the clubs. It's different for players from emerging nations, Pacific Island nations in particular - they don't have the means to compensate the clubs.
The clubs see Regulation Nine in their terms only. In many cases, they have contracted the players from emerging nations to cover for the Tier One players they know they will lose during test windows.
So the pressure goes on. The clubs have crunch fixtures during World Cups; games that could make or break their season. For emerging nations' players, their club contract is their only income. Unlike England or France, they don't pay test match fees so players make a financial sacrifice to represent their country.
The clubs also hold concerns about who is liable should Tier Two players be injured while on test duty and they fear that some players return from international action in poor physical condition - all of which makes breaches of Regulation Nine almost impossible to police. Clubs aren't daft. They don't leave much, if any, evidence of the threats they make or the stunts they pull to ensure some of their contracted assets turn down the chance to play at the World Cup.
Last year, former All Black Simon Mannix alleged that his old club Racing Metro went so far as to offer cash incentives to some Fijian players to reject the offer to play at the World Cup. Samoa, Tonga and the US have had similar problems at the last few tournaments. Last November, the Eagles had to withdraw wing Takudzwa Ngwenya on the eve of their match against Russia. US rugby officials received an unintelligible email from Ngwenya's club, Biarritz, claiming the player didn't have a valid visa and would therefore be playing in a Top 14 match against Perpignan instead.
"Talk about taking the proverbial," fumed an irate US chairman Kevin Roberts, who went on to write: "All Pacific Island nations face the same selfish, parochial behaviour. The Tier One nations get their players released from the clubs (via paying them via IRB sanctions). The clubs then replace their Tier One players with Tier Two nationals and don't release them. They offer their players money (ask Fiji and Samoa) not to play for their country, threaten them with all kinds of stuff or simply mislead them. And the IRB are impotent."
In November last year, the IRB decided it had to be more forceful; take a stand on player release issues and work harder to ensure that the same old stories don't surface after the 2015 World Cup.
They have taken that stand but those same old stories seem likely to resurface.