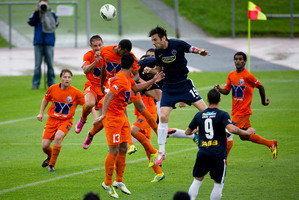 If defending champions Auckland City do qualify for the semifinals of the O-League, they may owe New Caledonian side Mont Dore a favour.
Auckland's chances of winning their fourth title in five seasons suffered a blow after being beaten by Waitakere United last weekend, leaving them needing a win from a tough trip to Tahiti in their final group game.
But after last-placed Mont Dore surprisingly held Tahitian champions AS Dragon to a draw last night - a result which also sealed Waitakere's progression to the final four - Auckland now need to only avoid defeat on Sunday evening (NZT) to join their city rivals.
That will still be a hard ask, with Dragon having beaten Auckland 3-1 at Trusts Arena earlier this month.
Resembling something of a shadow Tahitian team, Dragon have been the surprise packet of this year's competition and also emerged with a point from their other trip to New Zealand to face Waitakere.
But they may be left to rue being held at home by Mont Dore, a result which brought the minnows their first point of the campaign and opened the door for Auckland to earn another trip to the Club World Cup.
Auckland's hopes of taking advantage of their opponent's lapse will be hampered by the absence of striker Gustavo Souto and midfielder Chris Bale. Souto suffered multiple fractures to his collar bone in the Super City derby and will be out for the rest of the season, while Bale is unavailable due to work commitments.
One positive could be the return of former Canterbury United midfielder Darren White, who looks on track for a fast recovery from an ankle sprain, while Emiliano Tade will also return from a knee injury.
If Auckland are beaten it would mark the first season they have finished without a trophy since 2007-08. But coach Ramon Tribulietx, who has guided his side to back-to-back O-League trophies, believed the cut throat nature of Sunday's game could bring out the best in his charges.
``The situation will have to bring the best out of us to make sure we are competitive in Tahiti,'' he said. ``Obviously, what happens through the game will tell us whether we have to readjust something or not, but we will approach the game with the same ideas and will prepare as well as we can.''
Auckland's away record against Tahitian club sides is reasonable, with two wins, two draws and a 1-0 reverse against AS Pirae in 2005 marking their only defeat.
If they avoid adding to that loss, Auckland will set up a semifinal clash against either Fijian champions Ba or Amicale from Vanuatu, with the exact identity dependent on Waitakere's trip to New Caledonia to face Mont Dore on the same day.
- APNZ