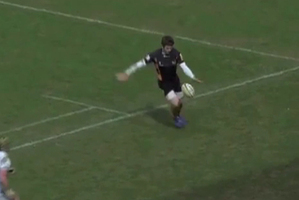 Who said Northern Hemisphere rugby is boring? Well most Southern Hemisphere fans - but going by this video even their clearance kicks are entertaining.
London Wasps centre Elliot Daly earned a cheer from the crowd after sending a 50-kick punt straight into a sideline rubbish bin in the weekend.
It's a thing of fluke and beauty but mostly fluke. Unfortunately it wasn't enough to inspire his side who fell 37-24 to Exeter.
The Aviva Premiership...where clearance kicks make the highlight reel.
See also;
Play of the day: Penalty-kick howler
Play of the day: Creative keeper uses bike
Play of the day: Bubba Watson's hovercraft golf cart
Play of the day: Large man with silky moves
Play of the day: Double KO after 14 seconds
Play of the day: 70-yard screamer
Play of the day: Giant cricketer smashes into boy
Play of the day: Messi gets hit for six
Play of the day: Behind the back table-tennis winner
Play of the day: Full court bounce shot
Play of the day: Toddler's amazing trick shots
Play of the day: Pollard's amazing catch
Play of the day: Huge rugby brawl
Play of the day: Player's length of pitch goal
Play of the day: Shoelaces lead to red card