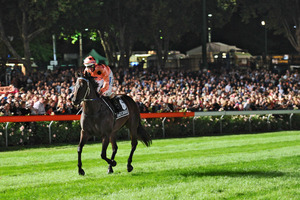 Q. First, thanks for your time Ms Caviar, or can I call you Black?
Ms Caviar to you.
Q. So retirement after 25 wins from 25 starts, you must be pleased to put your feet up in a back paddock?
Yes it's been a great run, but you know the old saying: better to quit on top.
Q. Are you Australia's greatest horse?
That's for others to decide, David. After all Makybe Diva and Phar Lap were pretty special, but my record speaks for itself, I guess.
Q. Steady on with Phar Lap, Ms Caviar. What was your finest race, champ?
Hard to go past the Diamond Jubilee Stakes at Royal Ascot last year. It was my only race overseas, and it was tight at the line. The Queen came up and said gidday afterwards. That was nice. Two queens together.
Q. Yes, you only just got the job done that day, after jockey Luke Nolen dropped his hands just before the finish.
Yeah, had to give him a rocket later over that.
But seriously, as the wins mounted up, it became a point of principle not to let anyone get to the line ahead of me.
Q. There was talk you might have a few dates with the other true champion of the turf, Frankel, a while back. He retired unbeaten after 14 starts, so you'd have plenty to chat about with that stallion over a bale of hay or two, if you know what I mean...
Cheeky. Yes he's a good looking guy too. Sounds like someone's thinking of creating a super horse.
Q. Sure does. Did your trainer Peter Moody tip you a wink at the TJ Smith Stakes at Randwick that retirement was looming?
No, it was a complete surprise, but I'm content. Can't do much more than 25 from 25 can you? Getting those last three wins after eight months recuperating was a great way to finish.
Q. And finally Ms Caviar, or can I call you Nelly?
Only my closest friends call me Nelly.
Q. There's already talk of Moody racing your first foal in about three years? How does motherhood sound?
Whoa there David. I'm only seven. There's plenty of frisk left in these legs.
It's been a pleasure, your majesty, and enjoy that bucket of caviar. (Contented snuffling sound).