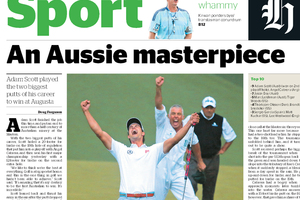 A brief look at the sports stories that are making news this morning.
In the paper
Williams' 4th Masters win may be his last
The Herald sport section leads with coverage of Adam Scott's Masters victory at Augusta yesterday. But will it be caddie Steve Williams last visit to the first major of the year?
Hanging up the bag
The 49-year-old Williams, who caddied for world No1 Tiger Woods for 13 years, was frank about his future beyond this year. "Obviously at the end of every year I reflect on where I'm at, I want to get through this year first."
Mystics plumb new depths
Beaten by the competition easybeats last night, the Northern Mystics have officially hit rock-bottom.
They lost again?
The Auckland side last night sunk to the bottom of the transtasman league table with an 80-78 loss to the Tactix at CBS Arena, Christchurch, in double extra time.
Blues aim to buck losing NZ trend
The Blues are being primed to overturn an unpalatable Super Rugby pattern which has affected New Zealand teams.
The bye curse
Every side except the Hurricanes have lost after their initial bye.
Overnight news
Rojas named A-League's best
All White Marco Rojas has been named the A-League's best player beating out former Italian striker and Sydney FC star Alessandro Del Piero for the award.
Stuart fined $10k for ref rant
Ricky Stuart's expletive-laden tirade in which he questioned the impartiality of referees has cost the Parramatta coach a $AU10,000 fine from the NRL.
Coming up
Tracey Nelson crunches the numbers from the weekend's Super 15 action in her Stats Don't Lie. Check the site after midday to read her latest edition.
By the numbers
1 The number of Australian golfers to have won the Masters.
36 The record number of home wins by the Miami Heat in the NBA this season, breaking the old mark of the 2004-05 team.
13 The points lead Barcelona hold over fierce rivals Real Madrid in Spain's La Liga, as the run-in to the finish of the season gathers pace.
Quote of the day
"It's bulls***. I just feel so sorry for the players."
Eels coach Ricky Stuart vents at NRL referees' boss Daniel Anderson after another defeat, this time to the Gold Coast Titans