Kirwan will work squad hard during bye week for Reds clash to avoid another Kiwi hiccup against Aussies.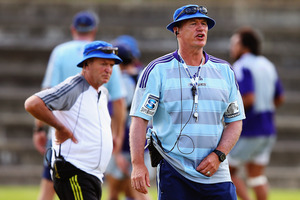 The Blues are being primed to overturn an unpalatable Super Rugby pattern which has affected New Zealand teams.
Every side except the Hurricanes have lost after their initial bye while the 'Canes have grabbed the solitary victory against the Australian teams.
If the Blues were superstitious, those patterns might have a grim twinge with their schedule offering a bye this week then a resumption against the Reds in Brisbane.
However, the Blues are feeling much more buoyant after successive victories topped by a cracking defensive shut-out of the Hurricanes.
"We had a pretty strong discussion about how we keep the momentum going and how we deal with the programme ahead," coach Sir John Kirwan said.
He too had noted the sequence of defeats which hit Kiwi teams after their bye round and the combined, one victory from seven games against the Australians.
"I think the Australian sides have been getting themselves up for the transtasman contests," added Kirwan. "They seem to be playing a different sort of game, a percentage game rather than taking a lot of risks.
"Those of us on the coaching staff will go through our footage and ideas as we work out strategies for the next game in Brisbane, then when we host the Stormers."
The Blues have been sent away until Sunday but there is no let-up in their physical conditioning. If anything they have been asked to raise those efforts during the bye week to sustain them for the next run of six matches before the break for the June internationals.
"Then we go to Africa before we come home to the Chiefs so we need to be in good shape before we head away. This next part of the competition will be full on," Kirwan said.
The Blues have escaped any more serious injuries other than the season-ending calf tear for prop Charlie Faumuina.
Midfield back Francis Saili bruised his thigh but there was no structural damage after his weekend collision during the 28-6 victory against the Hurricanes. His work in a new role at centre, the introduction of Jackson Willison and Rene Ranger's versatility had given the Blues selectors improved options.
Wing George Moala will also return from his one-week suspension to give Kirwan and his staff some extra options for the Reds match.
"For the first time I think I have got some real selection headaches," he said. "This is what we want. We want everyone to be putting pressure on each other and making sure they are working hard because that's where you will get real success."
Their final debrief session yesterday went over plans for the next stage of the Super 15 after they analysed their previous performance against the Hurricanes.
They had played strongly and everyone needed to know the reasons for that performance so they could aim to replicate it when they travelled to Brisbane.
The bye would deliver another four points before the Blues headed into the torrid six-week stretch.
"I thought this win against the Hurricanes was our first very, very good performance," Kirwan said, "topped by a great defensive effort.
"In the first two weeks of the series we had excitement, great play and were really expressing ourselves. We got away with some good wins but we are getting more solid. I think it is far more important that we are a solid football team that can do a few things rather just a couple of things. That is very important."
It was crucial the Blues did not get ahead of themselves in their ideas because this competition changed quickly.