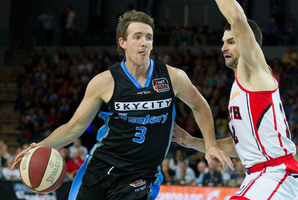 An era may be about to end for the Breakers but they know Perth is the perfect place for a final, fitting farewell.
Dillon Boucher is retiring, Cedric Jackson will likely progress to bigger and better things, and Andrej Lemanis could soon be the Australian coach - meaning tomorrow night's game could be curtains for this historic group.
For all their successes this season and for all their triumphs over the last three years, clinching the Australian NBL title on the road is the last box left to be ticked for the two-time defending champions.
Lemanis calls winning a close-out game away from home the hardest challenge in basketball, and his side failed to achieve the task in the same situation last year.
But these Breakers thrive on adversity and if they show that at Perth Arena, there will be nothing left to prove.
"They respond well to challenges and - as strange as it sounds - having something else to play for other than winning provides that little bit of extra motivation that you need," Lemanis said.
They know it won't be easy, not in Perth's fortress of a home gym. Opened this year, the 12,000-seat Perth Arena has been a graveyard for visiting sides.
After fluffing their lines in opening night, the Wildcats have rattled off 14 straight wins by an average margin of 19 points at the downtown venue, with the Breakers twice playing victims. Perth coach Rob Beveridge today called his team the best defensive unit in the competition, and at home they have held opposing teams to fewer than 60 points a game.
"We'll see," said Daryl Corletto. "But hopefully they can't hold us under 60 points. And if they do hopefully we'll hold them under 50."
The Wildcats held the Breakers to an average of 61 points in their two victories at home during the regular season, but that counts for little now. Not when Corletto will be playing to send off his "favourite teammate" and, possibly, the coach to whom he said he owes so much.
"Our focus is just winning for the old fella," he said of Boucher. "We want to get it done for him. He hasn't mentioned it that much but I know, personally, that's my driving force - to send him out the way he deserves."
The "old fella" painted a picture of relaxation at the team hotel this morning, donning board shorts and jandals while revealing he woke up thinking it was game day. It certainly didn't seem as if Boucher was highly strung heading into his potential swansong, but Corletto said Boucher and his fellow veterans were always at ease no matter the stakes.
"If it gets tight late in the game, you can look into a timeout and you can see the way CJ's looking, the way's Dillon's looking, the way Mika's looking. You can just see that they're focused and they're not going to get tight or overwhelmed by the situation."
That's because the Breakers have been here before - literally. Facing elimination last year, Perth held serve at home to send the series back to Auckland but Beveridge said past history hadn't been mentioned once this week.
"[In game one] the Breakers took us out of what we do. If they do that again, they'll beat us and we know that.
"But I have so much faith and belief in our team. It's not very often that we put on two bad performances in a row."
If this week becomes the exception to that rule, the final act of this Breakers' dynasty could be the best one yet.
- APNZ