Seven rounds in, Cameron McMillan lists the Herald Fantasy competition's top team.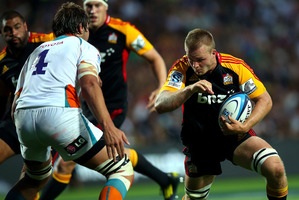 The dream team is also known as the "Shoulda, coulda, woulda XV". If you had picked these 15 players from round one and not made any transfers you'd be leading the competition.
Front rowers
Ged Robinson (Rebels) $3.34m, 90 points (seven matches)
James Slipper (Reds), $4.30m, 83 points (seven matches)
Arno Botha (Bulls), $3.83m, 76 points (five matches)
Robinson's numbers rely heavily on two big performances in week one (30 points) and in the last round (20) - both against the Force - but he still remains the top scoring front rower.
Most popular front rowers - Owen Franks (51), Ben Franks (67) and Wyatt Crockett (74).
Second rowers
Francois Uys (Cheetahs) $3.31m, 102 points (seven matches)
Hugh Pyle (Rebels) $3.70m, 90 points (seven matches)
After a quiet start to the season Uys has had a strong run in the last five matches with a high tackle count taking him past the century mark. His season high so far is a 26-point effort against the Highlanders.
Most popular second rowers - Sam Whitelock (72) , Brad Thorn (40)
Back rowers
Pieter Labuschagne (Cheetahs) $3.93m, 158 points (seven matches)
Sam Cane (Chiefs), $5.83m, 128 points (six matches)
Matt Todd (Crusaders) $5.77m, 116 points (six matches)
Labuschagne continues to lead all scorers through the opening seven rounds, 30 points clear of the next best in Cane. Despite having scored just one try he gets most of his points from tackles and Cheetahs victories.
It helps to be in a winning side which both Cane and Todd have benefited from as well as tackling their hearts out for their respective teams.
Most popular back rowers - Cane (128), Liam Messam (101), Kieran Read (61)
Halfback
Sarel Pretorius (Cheetahs) $5.51m, 77 points (seven matches)
After a slow start, including -1 in round two against the Chiefs, Pretorius bounced back with a 31 points, two try match against the Highlanders. He hasn't reached those heights again but has been consistent much like his Cheetahs teammates.
Most popular halfback - Pretorius
First five
Patrick Lambie (Sharks) $8.81m, 123 points (six matches)
Despite a surprising two-point performance in a 64-7 thrashing of the Rebels a fortnight ago. Lambie has been the in-form first five thanks largely to his boot. The Springbok has missed five kicks all season, kicking at 85 per cent.
Most popular first five - Dan Carter (82)
Backs
Robert Ebersohn (Cheetahs) $8.40, 121 points (seven matches)
Joe Pietersen (Stormers) $9.30m, 94 points (six matches)
Ben Tapuai (Reds) $9.22m, 93 points (seven matches)
Tim Nanai-Williams (Chiefs) $9.80m, 91 points (five matches)
Conrad Smith (Hurricanes) $9.20m, 88 points (six matches)
Ebersohn has been the surprise package of the season so far following back-to-back 30-point performances against the Highlanders and Waratahs. Pietersen's best so far was an impressive 41-point game against the Chiefs while Tapuai's double against the Waratahs in round two saw him almost pass the 30-point mark. Nanai-Williams stands out having played two less games than rival backs.
Most popular backs - Rene Ranger (76), Israel Dagg (30), Conrad Smith (88) Nanai-Williams (91), Julian Savea (80)
With those 15 players in the opening seven weeks of the competition you would have scored 1688 points (with Pieter Labuschagne as captain each week) and still have $750,000 left in the budget.