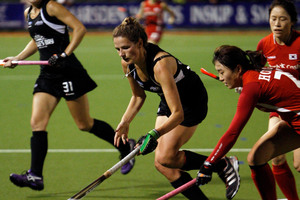 The Black Sticks went down 4-3 to Korea in a fast-paced match at the four-nations hockey tournament in Whangarei tonight.
Head coach Mark Hager was a disappointed man afterwards. "A pleasing last phase of play and a couple of good opportunities right at the end. But we gave away two soft goals, and you can't do that against a side like Korea and expect to get the results."
The visitors probably had the biggest share of possession in the first half. It was Yoo Jin Hong who scored from a field goal in the 14th minute. The Black Sticks had a chance to equalise through a penalty corner just before the half-time whistle, but it was cleared well by the Korean defence.
A disappointing start to the second half for the Black Sticks saw Korea's highest-capped player, Mi Hyun Park, score a soft goal in the 36th minute.
Much to the crowd's delight, the Kiwis returned to form when Pippa Hayward passed to Northland's Stacey Michelsen, who was waiting in the circle, and local player Charlotte Harrison tapped it in.
The tempo of the game picked up dramatically in the fourth quarter. Korean's Da Rae Kim scored twice and then Canterbury's Sian Fremaux made it 4-2 when she received a pass in the middle of the circle and hit it low to the keeper's left. With five minutes left on the clock, the Black Sticks were awarded a penalty corner and it took multiple shots from various players before Michelsen made it count.
The Black Sticks did all they could to equalise in the last couple of minutes, but it was not to be and the Koreans took the first-up win.
Although the conditions were perfect for the Black Sticks' game, it was a drizzly overcast evening during the first half of the earlier Argentina vs USA match.
Both teams took a while before they hit their straps and it wasn't until the 16th minute that 21-year-old Giselle Juarez scored a field goal for Argentina.
In the second half, Delfina Merino scored from a penalty-corner variation early on and although USA worked hard to hold possession and come back into the game, Argentina's defence was just too good.
Throughout the rest of the half, a string of penalty corners were awarded to Argentina, and eventually it was captain Macarena Rodriguez who converted in the 56th minute.
Tomorrow's schedule will see Korea take on USA (5.30pm) and New Zealand will face Argentina (7.30pm). All games are being played in Whangarei.