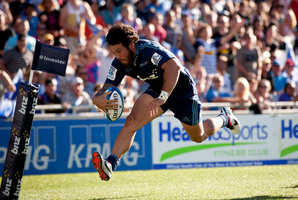 Picture this. Conrad Smith is not available for the June tests or Four Nations series.
We know he is going on sabbatical during the end-of-year tour to Europe so the selectors will be thinking about different players and ideas. The solution is not straightforward for the All Black panel.
They could shift Ma'a Nonu out to centre, but he has been a potent test force since he inhabited the second five-eighths role. Richard Kahui would have been the ideal choice at centre if he had not been going to Japan. He is available until after the Super 15 series and can fill the wing duties vacated by the injured Cory Jane.
Which still leaves us to sort out the next cab off the rank at centre.
Those seen this season in the Super 15 who will get discussion time will be Rene Ranger, Tim Nanai-Williams and Robbie Fruean.
Ranger has shown his strengths on defence and at the breakdown where his work rate has been strong. He is difficult to contain on attack with his fend and strong hips.
If he continues to produce, Ranger is a strong chance to regain the All Black place he held in 2010 but there is strong mail though that he has signed a contract to play in France.
He may have a get-out clause. If so the All Black selectors would be wise to activate it.
Nanai-Williams has been in dazzling form for the Chiefs. In Kahui's absence, he moved into centre and showed how his pace, sidestep and evasion skills could mesmerise tacklers while he did an adequate job on defence.
Fruean has been solid but the All Black selectors have struggled to pick him because he is error prone and his heart condition prevents him from being massively fit to handle the position the way they want.
Nothing looks like altering there. So who else? Maybe Tamati Ellison who debuted in that role for the All Blacks in 2009 but has not been seen this season because of injury.
His Highlanders buddy Ben Smith would be my pick.
He was the last man to play centre for the All Blacks instead of his namesake when he started against Scotland on last year's trip to Europe.
He's played 12 tests, is only 26, has speed and evasion skills, is solid on defence while his distribution will lift with a change of role. Plans for the next World Cup are well under way and Ben Smith should be marked down as the centre-in-waiting.