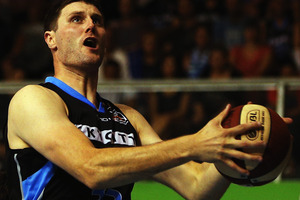 Alex Pledger has spent nearly four years with the Breakers but it is only now that he feels he truly belongs in the Australian NBL.
The centre has been a presence in the past - it's hard not to when you stand 2.15m - but it has taken time for him to understand how to use his size to his advantage.
The results have been obvious. Apart from the fact the Breakers head into Thursday's opening playoff match against Sydney at Vector Arena as the No 1 ranked side, Pledger has also won two of the last three ANBL Player of the Week awards as he topped 20 points against both Cairns and Melbourne.
It compares favourably to his season average of 10.7 points a game and he leads the league in blocks (1.4 a game), offensive rebounds (89) and sits fourth overall in total rebounds (192).
A lot of that is a by-product of playing increased minutes following the departure last season of import Gary Wilkinson but the transition to starting centre hasn't always been a smooth one.
"I found it quite tough at the start, especially the first half of the season,'' he said. "I think I was putting too much pressure on myself, trying to impress everybody and trying to prove I belong. I was quite inconsistent in that first part of the season, especially on the road.
"I think once the calendar ticked over to 2013 I have been a consistent performer. I think I have had a pretty solid season. It's hard to complain when your team is on top of the table.
"I honestly thought going into the season it would be exactly the same as last year except I would be playing 25 minutes instead of 15. I quickly learned that was the wrong mindset. I have been getting a lot more attention and people are playing me a lot more physically and it took me a little while to adjust. I took the pressure off myself, relaxed a little bit and started to play my game and in the second half of the season I had some pretty good results. I definitely feel I belong in the league now.''
Part of that came from realising he is big, genuinely big. Coach Andrej Lemanis reminded him that, as the tallest player in the league, he is virtually impossible to stop if he uses his size properly. He also continues to get advice from three-time NBA champion centre Luc Longley, who took on a mentoring role with Pledger last year.
Pledger, who turns 26 today, will be a crucial ingredient if the Breakers are to collect their third-straight ANBL title and he will need to match up well against Sydney centre Ian Crosswhite, who has the potential to trouble the Breakers.
The Kings might have an inferior record with 12 wins and 16 defeats but they have been a tricky opponent for the Breakers all season, given they are one of only two teams to beat the defending champions. They also lost two other matches to the Breakers on the last shot of the match.
Pledger will receive some welcome help with import Will Hudson expected to get some court time. Hudson has missed the last six games since injuring his knee in the narrow defeat of Sydney on February 9 and, while not up to full speed, will provide good impact off the bench with his energy and presence under the basket.
- APNZ