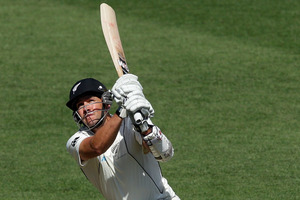 Eden Park, already becoming known for its rather unfriendly welcome to cricket fans through over-zealous security (see Peter Calder story), could win another dubious title - the venue to surrender the most sixes in a test in cricket history.
The world record number of sixes in a test is 27 - hit by India and Pakistan in their clash in Faisalabad in 2006. Yesterday, New Zealand had hit eight sixes in their opening innings of 443 so, given no weather interference and Eden Park's lamentable and highly criticised short boundaries, matters are possibly on course for a largely unwanted world record over the next three days.
With the pitch holding few terrors, more sixes seem inevitable, even if England's ranks do not contain the flamboyant Kevin Pietersen for this test. His replacement, Jonny Bairstow, has been known to strike a ball hard (as have Matt Prior and Stuart Broad) and, if this match gets to a situation where quick runs are needed, the world record could be in danger.
Curiously enough, the second most sixes recorded in a test match also involved England and New Zealand - in Christchurch in 2002 when New Zealand's Nathan Astle headed off on his amazing journey to the fastest test double century on record: 222 off 168 balls and including 11 sixes (and 28 fours, by the way). England's Graham Thorpe weighed in with five sixes, Andrew Flintoff three, Michael Vaughan two and New Zealand's Craig McMillan and Chris Cairns (one each) as Astle's heroics failed to stop the English from winning by 98 runs.
In Faisalabad, the Pakistani batsmen set the tone for a bat-dominated test by blasting 588 runs before India, also batting freely, hit 603 in response. Pakistan then declared at 490 for eight in a drawn test.
The batsmen hitting sixes are too numerous to name but the big-hitting Shahid Afridi led the way with six for Pakistan in his innings of 156, followed by Mohammed Yousuf with five (126 and 65) and Shoaib Akhtar three. India's M S Dhoni hit four in his innings of 148 and Harbajhan Singh and I K Pathan two each - although the Pakistanis hit 18 of the record 27 sixes.
Helping the anticipation of this record is the fact that skipper Brendon McCullum did not register a six in his innings of 38 yesterday - and he is unlikely to be so circumspect if and when New Zealand get another bat, particularly if they need quick runs.
In the Black Caps' first innings, Peter Fulton led the way with three sixes, Hamish Rutherford two, Tim Southee two and a lone six from Ross Taylor - another who will fancy the short boundaries if the circumstances are right.
If you want to puff Kiwi chests out further, New Zealand also figured in the third highest number of sixes ever scored in a test - also involving Pakistan, in 1976 at the National Stadium in Karachi. The match was drawn but the Kiwis led the way in the batting stakes.
They hit 12 sixes of the 22 in that test, with Richard Hadlee hitting three in his 87, wicketkeeper Wally Lees two in his famed 152 and, typically, Lance Cairns two in his 52 not out. Pakistan's Javed Miandad was the biggest hitter of the game, however, with five sixes in his innings of 206 and 85, with the dashing Majid Khan adding four as he scored 112 and 50.
The keen-eyed will have noted the difference between these other examples and what is happening at Eden Park. Christchurch, Faisalabad and Karachi all had batting heroics on grounds with normal sized-boundaries. While it can not be completely, definitively stated, it's thought that no one top-edged a six at those grounds.
In the first morning of this test, Fulton top-edged a Broad bouncer for six. On most other test grounds, he would have been caught at long leg. The straight boundaries are so short, they reward the straight shot - even if that can be more of a chip shot than a full-blooded swing. To be fair, however, most of the other New Zealand sixes (like Rutherford's two) probably would have been sixes on other grounds.