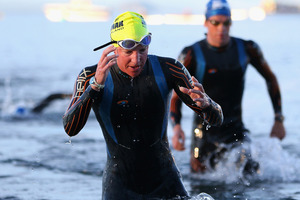 Gina Crawford peeled her blood-stained socks off her feet and eased herself into a chair before reviewing her Ironman NZ race today which was an extremely tough one for the Kiwi athlete.
It was a measure of her determination and ability that she finished second to American Meredith Kessler in Taupo despite not feeling at her best. Down almost nine minutes on Kessler at one stage, the Wanaka-best triathlete finished just over three minutes behind her in 9hr 20min 54sec.
She pushed herself on the run despite a breathing problem and was wobbly on her feet at the finish line.
Crawford, 32, has won Challenge Wanaka six times in a row, and although she won Ironman NZ in 2009, has struggled to translate that form in Taupo.
"It was up and down as usual,'' she said of her day. "I don't think I've ever been as buggered after a race.
I just feel so bad now.
"Meredith was awesome out there. I was trying really hard to catch her.
"On the run I felt tight in my diaphragm but then I felt all right but Meredith was too strong.
"I always do the Wanaka race and it's a really hilly bike course but I do well. For some reason I struggle up here. The bike ride should be faster but I never do a faster time here. I felt good on the first lap but then fell apart a little bit.''
Kessler put in a superb swim, coming out of the water in fourth overall and four minutes ahead of the New Zealander. Crawford took time out of her in the first bike lap but struggled from there on.
Kessler, who won the weather-shortened race in Taupo last year, said: ``I felt very controlled in that first 30km and then it all started to unravel. I didn't feel like I was digging too deep until that last 10km.''
Both women are likely to line up in Ironman Melbourne in three weeks.
- APNZ