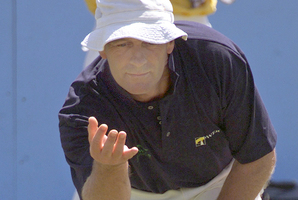 A stunning singles performance by Dunedin's former national Mike Kernaghan foiled the powerful Nelson centre achieving a rare double of men's and women's triumphs at the national inter-centre championships in Auckland yesterday.
Kernaghan whipped current Black Jack Shannon McIlroy 25-11 and, with Dunedin's four skipped by Kerry Becks also winning, put the southerners into one of today's semifinals. Also in the final four for today are Manawatu, Bay of Plenty, who upset a fancied Taranaki combination, and Wellington.
Nelson's equally imposing women's side stayed on course for today's semifinals by winning yesterday's quarter-final against Manawatu. Their two multiple world champions, Val Smith and Jo Edwards, were in impressive form winning all three of their games yesterday.
The other women's semifinalists will be Northland, who beat Dunedin in the quarters 2-1, Hawke's Bay, with a similar margin over Wellington, and Canterbury, who loomed yesterday as Nelson's chief threat.
Canterbury's team, also stacked with big-name players, made today's semifinals with a 3-0 win over Counties-Manukau and were bolstered by strong showings by Jan Khan in the singles and by Sandra Keith and her lead Serena Matthews in the pairs. Khan had an absorbing match in their final section clash against Taranaki's current national singles champion, Val McEldowney, winning 25-21.
Among the 16 non-quaifiers were the Auckland men's and women's teams, the men failing to defend the title won last year by losing two of their three matches in the final section round, edged out by Wellington.
The difference between making the final eight and missing out, however, was, in many cases, by the finest of margins. Wellington's women's team made their quarter-final through a superior points differential to Bay of Plenty and a spirited West Coast men's side also missed out on points differential.
In some cases, the result of just one of yesterday's section games tipped the balance. Manawatu slipped past North Harbour as one of the women's qualifiers when their singles player Feona Sayles beat Harbour's Gail Dick 25-19.