Avondale Guineas should provide tasty appetiser for the main course next month.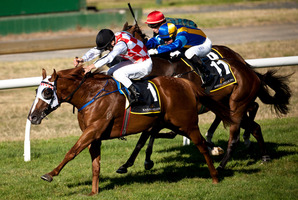 If Ellerslie bosses had tried to conjure up a perfect Derby prelude they would have pretty much come up with Sunday's Avondale Guineas.
The $85,000 group two feature over 2100m is shaping as one of the best Derby trials in recent history, with possible late entry Fix and Soriano the only two big name Derby contenders missing.
Superstar filly Habibi heads the field and looks ideally drawn at barrier five but she has some potent male firepower drawn inside her.
Waikato Guineas winner Castlzeberg has gate four and Karaka Mile winner Choice Bro barrier two, with Zinko starting from the ace.
Wellington Stakes winner Weissmuller is also back after his Te Rapa failure, with even the lightest of rain in Auckland yesterday certain to please his trainer John Kiernan.
While Weissmuller was always going to come to Ellerslie in search of right-handed experience, Castlzeberg was not a definite starter until yesterday.
Co-trainer Bob Vance had toyed with missing the Sunday's Guineas but is now in the race with the draw and jockey he wants.
Opie Bosson returns to take the ride, which Vance says was his all along even though Danielle Johnson rode Castlzeberg inch-perfectly at Te Rapa.
"Opie has always had first preference and the Derby ride is his, too, if he wants it," said Vance. A four-time Derby winning jockey himself, Vance says Castlzeberg will go into Sunday's Guineas on the fresh side.
"Obviously, we are here getting ready for the Derby so I haven't done much in the way of galloping him since Te Rapa," Vance told the Herald.
"But we have got the right draw and from there I can't see him having too many problems getting to the front."
That sets up an intriguing game of cat and mouse if the freegoer is rolling in front with the likes of Choice Bro, Zinko and, of course, Habibi stalking him.
While the Guineas will be the highlight of Sunday's meeting the Avondale Cup shapes as a crucial guide to the Auckland Cup on March 6.
It brings together Wellington Cup winner Blood Brotha and last Saturday's effortless International Stakes winner at Te Rapa in Sangster.
That win was Sangster's first since the VRC Derby 15 months earlier but he was so dominant he is now the $3 favourite for the Auckland Cup.