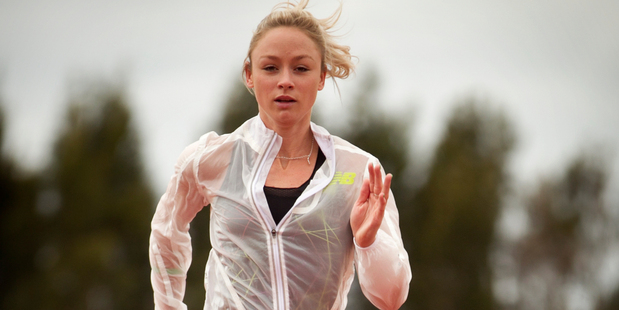 New Zealand hockey international Anita Punt has continued her dream start in sprinting and must now be considered a serious contender at next month's national championships.
Punt won both the 100m and 200m races at the Porritt Classic in Hamilton in Saturday, just the fourth time she has competed in the shorter distance and only her second crack at the 200m.
Punt, who played for the Black Sticks at the London Olympics, took up athletics this year after long wondering if she could transfer her blazing speed from the hockey field to the track.
The 25-year-old had shown an aptitude to do just that, winning the 100m-300m double at the international track meet in Christchurch last weekend after receiving a wildcard entry.
She showed it was no fluke on Saturday, clocking impressive, though wind-assisted, times of of 11.72 seconds and 23.95s in the 100m and 200m.
After warming up with some solid hockey training in the morning, Punt headed Molly Florence to make it four wins from her last four races.
"It's a good, new experience," Punt said. "I'm enjoying it so far and it was great to get the wins today, with better times. I wanted to get under 12 seconds (for the 100m) so I was happy with that."
Punt said she has been battling with the starts - the most technical aspect of the discipline - but her improvement in that area was shown in her times.
With the national championships set for Auckland next month, Punt has a real chance of claiming a title of two given the current dearth of talent in women's sprinting. But she has her day job to consider before deciding whether she will take her place in the starting blocks.
"I'm trying to do hockey as well so it's a bit hard to fit the two in, but I'm managing it OK at the moment," she said. "I'm off to Argentina for a week and a half for hockey so I'll wait until I get back and see how I'm feeling and decide whether I do the nationals.
"I'd like to do them but we'll just see what happens."
Elsewhere at Porritt Stadium, three-time Olympian Stuart Farquhar was reasonably happy with his opening javelin throw of the season of 78.28m. The 12-time national champion and Delhi Commonwealth Games silver medallist managed to get in one good throw, though he was hoping for something over 80 metres.
"Not knowing where I'm sort of at, maybe it was all right," Farquhar said. "I was a bit jaded for the first four throws."
The 30-year-old has yet to move into his next phase of training for the New Zealand championships next month, before competitions in Melbourne in April and Japan in May. His personal best throw is 86.31m and he requires a throw of 83.50m for selection to the world championships in Moscow in August.
"My training's been good, it's just I haven't done any high-end speed stuff," he said. "I've got a lot of power so it's going to come in the next sort of month or so. It's not a worry I'm really happy with it."
Olympic heptathlete Sarah Cowley won the high jump on a count back from Emma Sutherland after both cleared 1.80m, with Elizabeth Lamb third with a jump of 1.75m.
- APNZ