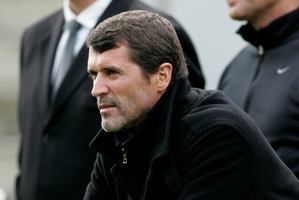 After the dethroning of Ross Taylor and Lance Armstrong, some comic reading relief was required for the holiday season.
Triggs to the rescue. Not being an ardent football fan, I had doubts about buying an autobiography written in the paw of former Manchester United skipper Roy Keane's golden labrador retriever, but the sincerity she channels down her snout on the front cover convinced me to part with £6.89 on Amazon, stretch out in the La-Z-Boy, and pray for a few giggles. Triggs (as woofed to her ghost-writer, the former Irish sports journalist of the year Paul Howard) briefly became this man's best friend. In canine parlance it was as if someone had left a pack of eye fillet open on the kitchen bench; I could not keep my nose out of it.
Triggs originally came to fame when paparazzied with Keane on long walks immediately after he was dismissed by Ireland manager Mick McCarthy at the 2002 World Cup. The legend grew - as does Triggs' ego - in Howard's abundant imagination: "Like anyone who discovers they have an extraordinary gift [for football analysis], the immediate question was, 'What was I going to do with it?"'
It's a brave gambit writing an "eye of dog" account but Howard manages it with aplomb. Triggs takes us on a willing leash through Keane winning the 1999 Champions League to falling out with McCarthy to his awkward days as Sunderland manager. I learned as much about football in these 392 pages - both strategically and psychologically thanks to Triggs' habit of basing tactics on those used in History Channel war documentaries - as I have anywhere.
Crucially, the book elicited howls of laughter. Triggs reserves some of her most perceptive (and scathing) observations for household name Premier League footballers. Take her description of David Beckham's personality: "I could read Beckham as easily as I could read, say, either of the two autobiographies Michael Owen had authored by the time he was 25."
Faithfully sardonic, Triggs addresses the dilemma of the modern footballer and warns what to expect in the future. "Money allowed them to remain adolescents forever. They played video games. I remember Roy entering a kind of trance every time he tried to get his head around that ... they checked their hair before they went out to play. They paused to consider their options in the deodorant aisle of the supermarket."
Keane's reluctance to accept Triggs' intuition frustrates our author initially: "My ability to read a football match as if it were no more complex than, say, the thoughts that pass through Ashley Cole's mind in a hotel room at one o'clock in the morning with a mobile phone in his hand, was something Roy struggled with at the beginning."
Triggs remains Keane's trusted sidekick throughout, even when describing her owner's various vendettas on fellow players: "I could go on listing [them] - except this is a memoir, not the UK White Pages."
A key truth about dogs emerges when Triggs describes Keane apologising to her after one stroppy incident. Seeking redemption, he tapes the following quote next to Triggs' basket: "Dogs have given us their absolute all. We are the centre of their universe, we are the focus of their love and faith and trust. They serve us in return for scraps. It is without doubt the best deal man ever made."
So it is with Triggs. She died last year but lives on in this charming tome. It banished thoughts of NZ Cricket and Armstrong.