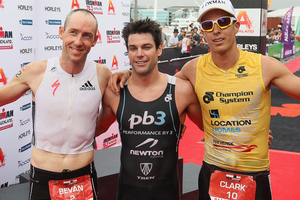 An Australian whitewash in the Ironman 70.3 Auckland race today wasn't the result the majority of the crowd wanted, but Clark Ellice's third-place in the men's event behind fellow New Zealander Bevan Docherty was a welcome surprise.
Sydney's Christian Kemp was a worthy winner of the inaugural long-distance race made even tougher by the drizzle and breeze which gave many athletes a few worries as they crossed the Harbour Bridge on the 90km cycle leg. Kemp broke away from Docherty with about 5km to go on the 21km run to claim the biggest win of his career in 3:56:02, with the New Zealand double Olympic medallist finishing 34 seconds behind him.
Ellice also broke the four-hour mark, a fine effort given the conditions, coming home in 3:58:23.
It was the 30-year-old's first ironman event - he races fulltime on the shorter, Olympic-distance ITU series - but decided to break up his training with an early-season race and was ecstatic with the result.
After missing selection for last year's London Olympics - he was a reserve behind Docherty, Ryan Sissons and Kris Gemmell - Ellice is re-thinking how he trains. For him the Great British Brownlee brothers, Alistair and Jonathan who are ranked No1 and No2 in the world, were setting the benchmark.
"I have been doing some velodrome racing to get more explosive on the bike,'' he said of his new approach. "I really felt that on the bike leg today. You've got to have a point of difference - evolve and adapt like the Brownlees' approach to ITU racing. If you do the same thing every year you're not going to get any quicker and that was half the reason why I did this.''
Ellice was in a group of three, including Kemp and Docherty, which overhauled James Hodge, a Tasmanian 20-year-old, halfway through the run. Hodge had set the pace until that point with excellent swim and cycle legs.
Ellice, who was seventh after the 1.9km swim leg in the Viaduct Harbour, was the next one to drop off the pace with about 8km remaining, before Docherty, who had looked strong, also succumbed.
"I came here to win,'' Docherty said. "To be honest, I felt pretty average all day. The way I felt, second is a pretty good result.''
Docherty, who has retired from the ITU circuit, has impressed in the longer 70.3 races - his next outing will be to defend his title at Ironman 70.3 Panama - but maintains his focus is on his first full ironman, the New Zealand event in Taupo on March 2.
"It was quite tactical on the bike but I just tried to hide and conserve my energy. I felt okay on the run but I just didn't have that spring that would have won the race.
"I didn't crash and burn, I just didn't have that spring in my step.''
A victorious Kemp said: "If it was any longer, I don't think I would have got there. I was really stinging at the end and I'm sure Bevan was gaining on me.''
In the women's race, Australian Annabel Luxford led from start to finish to win in 4:19:18, a performance which included an eye-catching cycle leg. Her cycle split of 2:22:14 was more than three minutes faster than 10-time Ironman New Zealand champion Cameron Brown, although the Kiwi was using the race as training for the Taupo event.
Swiss Caroline Steffen was second, almost six minutes behind Luxford, with American Meredith Kessler third.
Ironman 70.3 Auckland results:
Men: Christian Kemp (AUS) 3:56:02, 1; Bevan Docherty (NZL) 3:56:36, 2; Clark Ellice (NZL) 3:58:23, 3; Paul Ambrose (GBR) 3:59:26, 4; James Hodge (AUS) 4:00:55, 5.
Women: Annabel Luxford (AUS) 4:19:18, 1; Caroline Steffen (SUI) 4:25:15, 2; Meredith Kessler (USA) 4:29:24, 3; Sarah Crowley (AUS) 4:32:04, 4; Anna Ross (NZL) 4:34:25, 5.
- APNZ