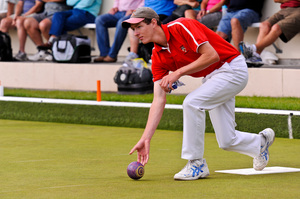 The legend will play the young gun in the men's fours bowls final at the National Open Championships in New Plymouth today.
Andrew Kelly's youthful composite team, comprising former Black Jack Danny Delany, NZ Gold Star bowler Chris Le Lievre and 2010 Open singles champion Raika Gregory will meet veteran bowler Rowan Brassey's team to decide whether age and experience is worth more than talent and youthful energy.
Kelly (Canterbury) won the title last year with an equally strong team that included Black Jack Ali Forsyth and the 2012 pairs champion Blake Signal.
Kelly's side was in superb form in the quarter-finals and semifinal yesterday as they accounted for Graham Skellern (composite) 19-17, and put on a dominating display against Taranaki favourite Brian Baldwin (composite) in the semifinal to win 16-8.
Picking up the first three ends - two twos and a three - the finalists jumped ahead of Baldwin's side and never lost the lead, despite dropping four consecutive singles on the final ends.
The final, against six-time national fours champion Brassey, will be more difficult, as was shown by the defeat of both Forsyth's composite team (fours champions in 2011) and Richard Girvan's crack squad of fellow Black Jack Shannon McIlroy, multiple national title-holder Kevin Robinson and rising star Lance Pascoe.
Brassey (skip), Beau Prideaux, Rodger Hassall and Brett Hassall bundled out Forsyth in the quarter-finals 20-7, dropping just five ends in a 16-end game, and then delivered a similarly definitive blow to Girvan's chances of a trophy shot.
Girvan's side went down 16-9 as Brassey drew some truly magic shots to clinch the majority of ends in the tense semifinal.
Both men's and women's fours finals will be played on the Paritutu greens today from 9am.