Higginbottom vows to return to Clearwater next year to defend title.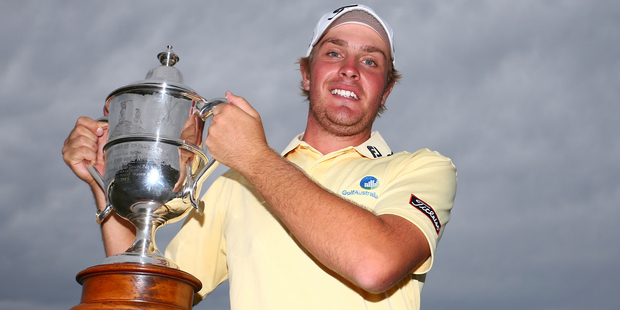 Promising amateur golfer and newly crowned New Zealand Open champion Jake Higginbottom has vowed to return to Clearwater to defend his title next year.
Higginbottom, 19, claimed a one-shot victory at Clearwater yesterday over fellow Australians Jason Norris and Peter Wilson as he finished at seven-under for the week.
Higginbottom also became the first amateur to win the Open since Harry Berwick triumphed in 1956.
Four clutch birdies on the back nine saw Higginbottom grab the title as Kiwi hopeful Mark Brown watched his lead slip away as he eventually finished fourth at four-under.
"I hope to come back next year as a pro," Higginbottom said after his historic win.
"I played really well. I was a bit shaky to start with then I started to play really well on the back nine and hit a couple of nice shots in there.
"It's a great feeling and it meant a lot to me.
"It's good to play well after I haven't been playing so well. It's good to come over here and play against all the professionals and see that you're just as good."
Because of Higginbottom's amateur status he wasn't able to claim the A$72,000 ($91,447) winner's cheque, which worked out well for Norris and Wilson who split the cash for first and second and pocketed $71,616 for their efforts.
Higginbottom, who has performed admirably during the past two years in limited starts on the Australasian PGA Tour, said he wasn't worried about missing out on the loot.
"It doesn't worry me. No, I don't think so, I just think it's another stepping stone. I still plan to turn [pro] next year."
After his victory he spoke on the phone to his proud parents who watched the final round at home in Newcastle.
"Mum was crying. Dad said he was just happy that I said a good speech. He's an idiot," Higginbottom laughed.
The youngster showed remarkable poise for an amateur and held his nerve well when it mattered most, while Brown failed to get his putter going as he shot a one-over 73 in his final round.
The 18th has been a tough hole all week but with the win in his grasp, Higginbottom calmly parred the last hole at Clearwater, although a short putt of a foot and a half gave him a few butterflies, but he holed it to claim the spoils.
A Kiwi hasn't won the Open since Mahal Pearce was victorious at Middlemore in 2003.
Richard Lee was the next best Kiwi after Brown as he signed for a three-under 69 today that put him three-under for the week in fifth place.
Pearce and Michael Hendry snagged a share of 10th at even par.
Norris, 40, said it was a funny feeling to claim a share of the winner's purse but not win the tournament.
"Obviously fantastic to take the money but a bit disappointing.
"I have never finished runner-up behind an amateur.
Leaderboard
281: Jake Higginbottom (a-AUS) 72 70 72 67
282: Peter Wilson (AUS) 72 71 71 68, Jason Norris (AUS) 77 73 66 66
284: Mark Brown (NZL) 72 73 66 73
285: Richard Lee (NZL) 76 70 70 69
- APNZ